Zion National Park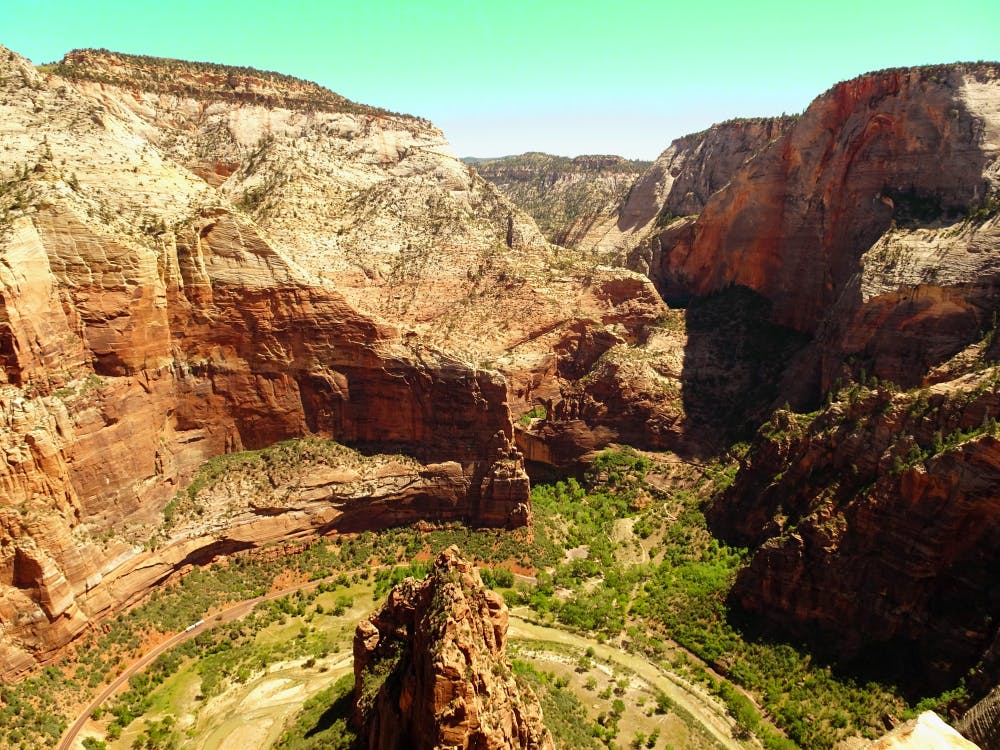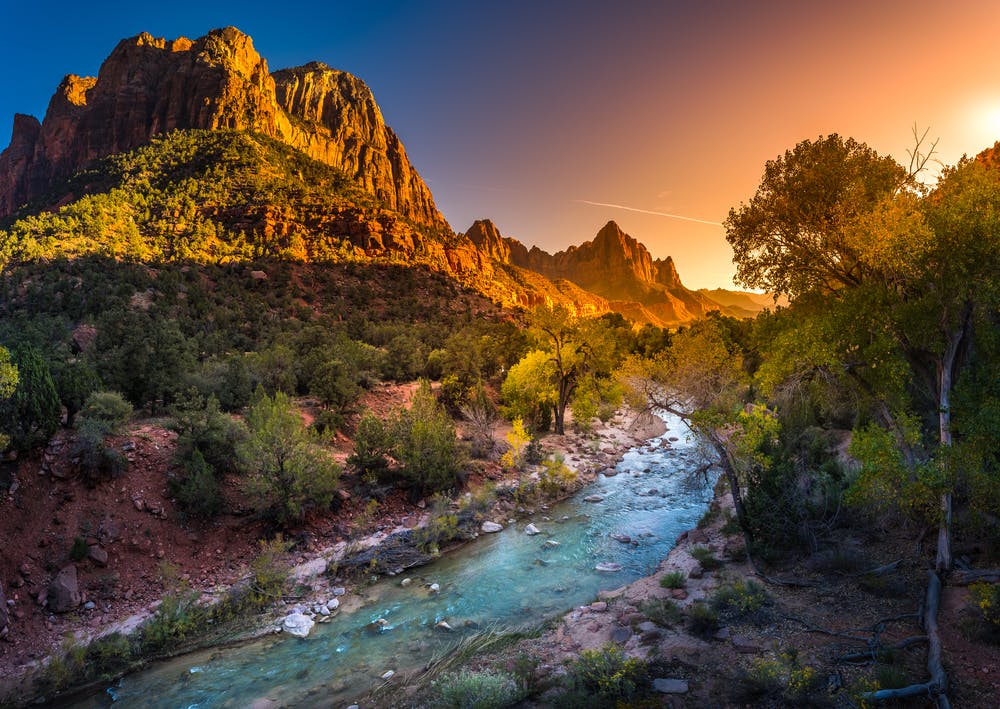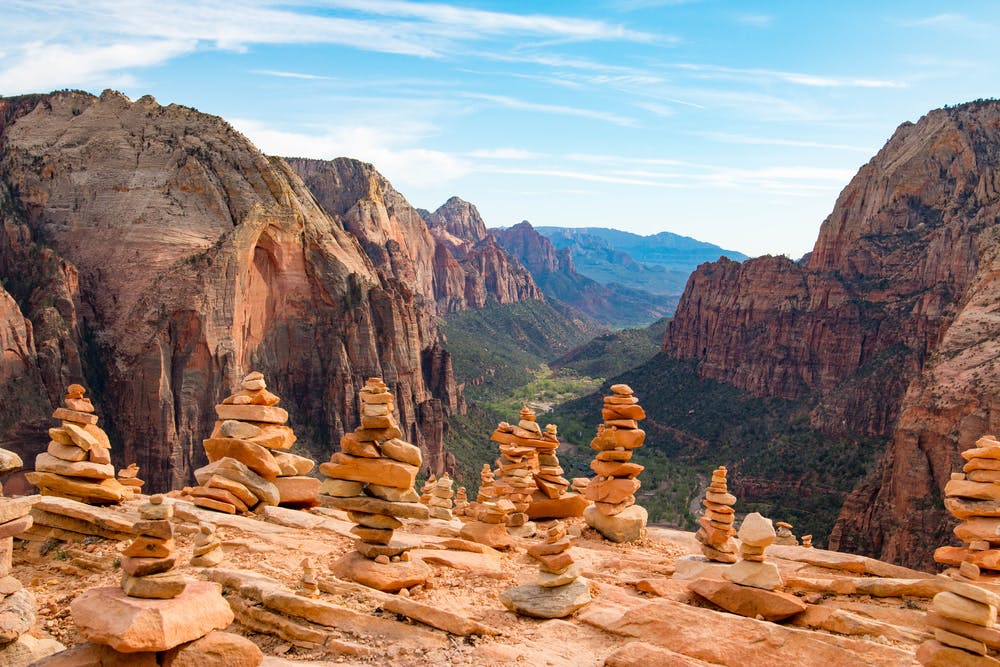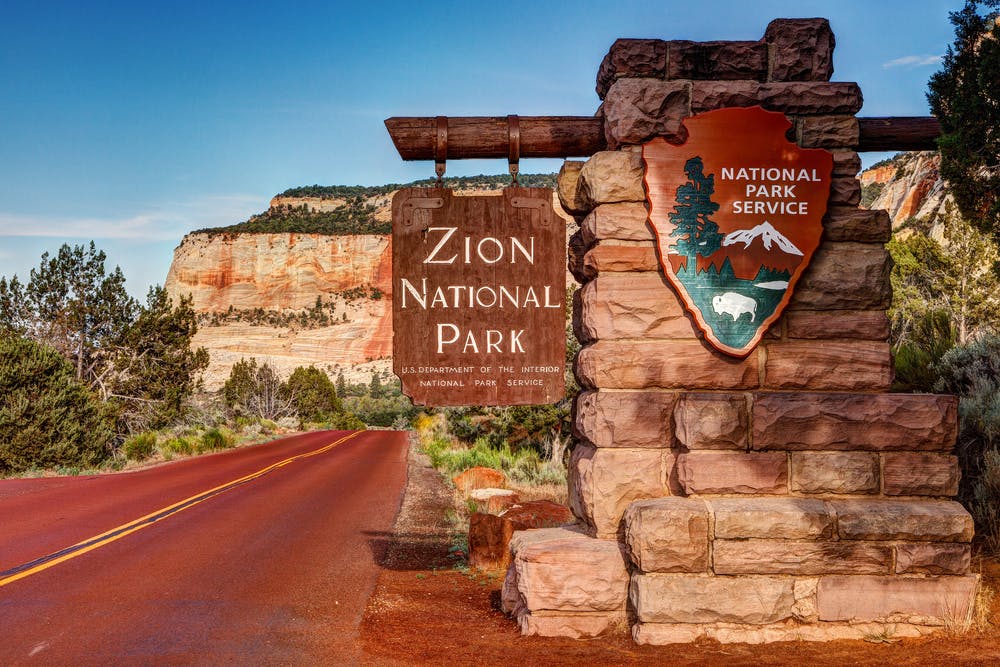 Preserving southwestern Utah's 15-mile long, half-mile deep Zion Canyon, the area now known as Zion National Park has been inhabited by humans for about 8,000 years. Ranging from the relative lows of the Coal Pits Wash (elevation 3,666 feet) to the park's highest peak at the summit of Horse Ranch Mountain (elevation 8,726 feet), Zion invites explorers to discover its canyons, crags, and cliffs. Along with a wide variety of traditional hiking experiences, Zion also offers the opportunity to take a unique, wading walk through its iconic Narrows. Additionally, the park bears the distinction of being the first designated national park in the state of Utah.
The weather at Zion National Park varies considerably amongst the seasons, and has been known to shift by as much as 30 degrees even within a single day. The high summer months frequently see daytime highs of over 100 F, and violent afternoon thunderstorms are frequent during the monsoon season (between mid-July and September). Fall brings cooler temperatures and dryer skies, making it the most ideal time to visit -- and also the most crowded. If you head to Zion during winter or spring, be sure to prepare yourself for cold, wet weather; check the park's official weather page for full details before you head out.
The closest town to Zion National Park is the small village of Springdale, whose population was 529 at the 2010 census. Further west on Route 9, you'll find the towns of Rockville and Grafton; the relatively large city of St. George is about an hour's drive away.
Visitors are drawn to Zion for all kinds of outdoor recreational opportunities, from hiking and biking to climbing and canyoneering. The wading hike through The Narrows is considered an iconic Zion experience, and can be tailored to fit a wide range of skill and fitness levels. The National Park Service also hosts a variety of educational and interpretive programs, such as nature talks, guided walks, and more. Click here to see the park's official events calendar for full and up-to-date details.
Weather
Spring 50-60 F
Summer 100 F
Fall 70 F
Winter 50 F
Nearby Cities
Springdale, Orderville
Trip Planner
Use our FREE RV trip planner to begin customizing the perfect RV trip.
Continue
RV Resorts & Campsites in Zion National Park
There are three campgrounds located inside Zion National Park, each of which can accommodate RVs (though length restrictions vary). Hookup sites exist, but are limited, and the campgrounds can fill up quickly even during the off season.
RVers can also choose from a range of privately-owned campgrounds and parks in the area, as well as a number of free or low cost dispersed camping, or boondocking, opportunities.
RV-Friendly Campgrounds in Zion National Park
Other RV Parks and Campgrounds in the Zion National Park Area
RV Rentals Near Zion National Park
Nearby RV Rentals
Hit the Trails
Whether you're looking for a leisurely stroll or a technical challenge, you'll find a trail that suits your needs at Zion. (And no matter which end of the spectrum you're on or which hike you go for, you're guaranteed some absolutely epic views.)
As in any hiking situation, it's important to plan ahead to ensure your safety. Always carry ample water, high-energy snacks, and lots of sunscreen -- as well as a trail map and a compass.
For complete information about hiking in Zion National Park, check out the park's official hiking page as well as the user-generated data at AllTrails.
Zion National Park Hiking Trails
Canyon Overlook
Distance: 1 mile
Terrain: This easy-to-moderate, out-and-back hike offers iconic, Instagram-ready views of Zion Canyon, and sees only about 100 feet of elevation change.
East Rim
Distance: 10.8 miles (but can be broken down into shorter segments)
Terrain: A strenuous trek through ponderosa forests to the highest part of the park. Seeing more than 2,000 feet of elevation change and steep switchbacks, this trail is not for beginners.
Many Pools
Distance: 2.3 miles
Terrain: A moderate hike featuring unique geological formations and standing pools of water.
The Narrows
Distance: 16 miles (but can be broken down into shorter segments)
Terrain: Perhaps the most iconic hike not only in Zion National Park, but in Utah, this trek follows the course of the Virgin River as it wends its way through the length of Zion Canyon. This is a wading hike, which means you will get wet. The river is cold, the rocks are slippery, and the risk of flash flooding is real -- so be prepared!
The Watchman
Distance: 3.1 miles
Terrain: A moderate climb to a plateau offering sweeping canyon views. In springtime, the trail is lined with abundant wildflowers.
Weeping Rock
Distance: 0.3 miles
Terrain: Short, easy, partially-paved nature trail with abundant interpretive signage to introduce and orient you to the Zion landscape.
What to Do at
Zion National Park
Even the hardiest outdoor adventurer has to eat sometime -- or buy a new T-shirt or two.
Although Zion is in a fairly remote location, its popularity as a travel destination means the surrounding towns are bustling with tourist-oriented activities. Translation: delicious eats, fun boutiques, and a wealth of cultural opportunities, all in the heart of the Utah high desert.
Restaurants
From a quick pit stop for a pre-trail breakfast to an all-out, dressed-up dinner affair, Zion's gateway town of Springdale has a suite of great eats on offer. Here's where to grab a bite.
Type: For light, healthy bites and fresh-brewed coffee any time of the day, head to Cafe Soleil.
Location: Springdale
Type: Ready to follow up a day hike with date night? This upscale bistro serves elevated American classics alongside fine wines, local beer, and a full bar.
Location: Springdale
Type: Omelets and crepes at breakfast; wings and salads at lunch; fresh-grilled lamb brats and house-made meatloaf at dinner time. (Psst: vegan meatloaf also available!)
Location: Springdale
Type: Whether it's a breakfast burrito to get you geared up for the trail or a helping of nachos to replace those burned calories at dinnertime, this casual Mexican favorite is as well-loved for its views as its vittles.
Location: Springdale
Type: For a delicious Mexican lunch or dinner you won't soon forget, Whiptail Grill is the place to be. Enjoy twists on classics, like Mahi Mahi tacos or spaghetti squash enchiladas.
Location: Springdale
Shopping
It's happened to all of us: You arrive at camp only to discover you're missing something important. But whether it's as simple as a toothbrush or as critical as climbing ropes, Zion's area vendors have you covered.
Whether it's a souvenir for the folks at home or a new Hydro Flask for your day-pack, Taoquim's Village is a one-stop shop offering gifts, gear, and guidance.
Location: Springdale
Need to stock up on s'mores supplies? Make this local grocer your go-to. They also offer pre-made meals, camping goods, and hardware -- and even have a bookstore in the back!
Location: Springdale
Specializing in house-designed T-shirts featuring southwestern art and petroglyphs, you can rest assured that everything you get from this gift shop will be one of a kind.
Location: Springdale
Ready to get outside? If the answer is "almost," head to this outdoor gear vendor to get what you need -- and get out there!
Location: Springdale
Hey, this is Zion Canyon -- so obviously, you've got multiple outdoor outfitters to choose from. Zion Outfitter specializes in getting you geared up to hike the Narrows or bike the park's many scenic trails safely, and they're open seven days a week.
Location: Springdale
Museums
These Zion-area museums and cultural exhibits are the perfect way to wait out a rainy day… or just that post-trail soreness.
Long before we called it Zion National Park, others like us called it home. Come see the artwork they left behind at this rustic, public park, which charges no admission.
Location: Bloomington
If you find time to make your way west to the town of Hurricane, don't miss this public park, which features a small museum and a wealth of historical information.
Location: Hurricane
Just a mile north of the park's south entrance, the Zion Human History Museum is well worth a stop, even if it's not a rainy day. From prehistoric Native American culture to the pioneer settlers and beyond, this exhibit will open your eyes to the storied history of these sacred lands
Location: Inside Zion National Park
Sightseeing
As stunning as Zion National Park is, it's a drop in the bucket when you consider all of the outdoor adventure this part of the world has to offer. Utah alone boasts five national parks and countless other wilderness areas; if you cross state lines, your opportunities increase tenfold.
Named for its iconic (and gorgeous) sandstone arches, this national park is just a half-day's drive from Zion -- and well worth your trouble.
If you make the drive to Arches, you can't miss Canyonlands, which is just a half hour further. Plus, it offers a great opportunity to see a different type of canyon landscape as compared to Zion's!
Need a quick dip? Measuring over 250 square miles, Utah's most beloved lake -- which is really a reservoir -- offers ample opportunities.
See Utah's classic red rock landscape on a backdrop of snow-capped granite mountains, all within an easy drive of Zion's own charms.
How to Get to
Zion National Park
By Car
Nestled in the southwestern corner of Utah, Zion National Park is serviced by the state's Route 9, otherwise known as Zion Park Boulevard. For full information on how to drive to the park from a variety of different orientations, check out the park's official directions page, complete with an annotated map.
By plane
The closest major airports to Zion National Park are Las Vegas and Salt Lake City, both of which are several hours' drive from the property. Saint George, Utah and Cedar City, Utah both have small, regional airports which are serviced by Salt Lake City and Denver.
By RV
It probably comes as no surprise that RVing has a special place in our heart when it comes to deciding how best to travel to the most sacred sites in our country. RVing offers you the unique opportunity to combine the flexibility of road-tripping with all the comforts of home… and to get front-row seats to all the action by camping inside the park proper. (Psst: don't have a rig of your own? No problem. Check out the RV rental listings available in your area.)
View RV Rentals
Entering Zion National Park
Entering the park requires a fee -- but the monies go to the good cause of maintaining the park's facilities and interpretive services. Here are the latest Zion National Park entry fees, per September 2018.
Private Vehicle : $35
Private, non-commercial vehicles (15 passenger capacity or less) and all occupants. 7-day pass.
Motorcycle : $30
One or two passengers on a private, non-commercial motorcycle. 7-day pass.
Per Person : $20
One individual with no car (bicyclist, hiker, pedestrian). Youth 15 and under are admitted for free. 7-day pass.
We can't wait to hear all about your trip to this incredible part of our country! For the chance to be featured at the RVshare blog or on our social media channels, tag us in your posts and pics, or email details directly to memories@rvshare.com,.