Yellowstone National Park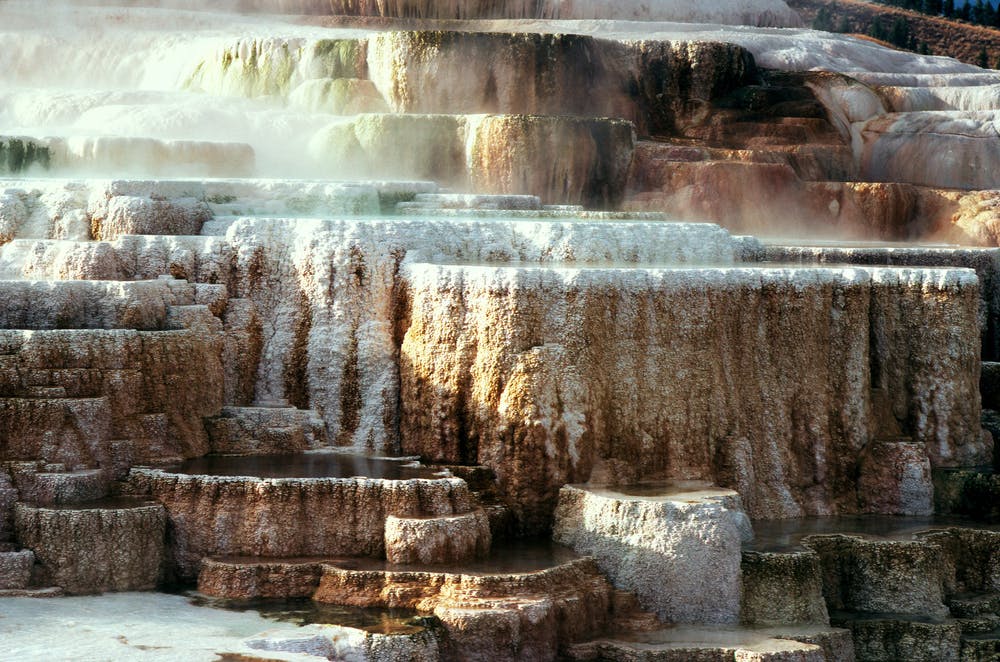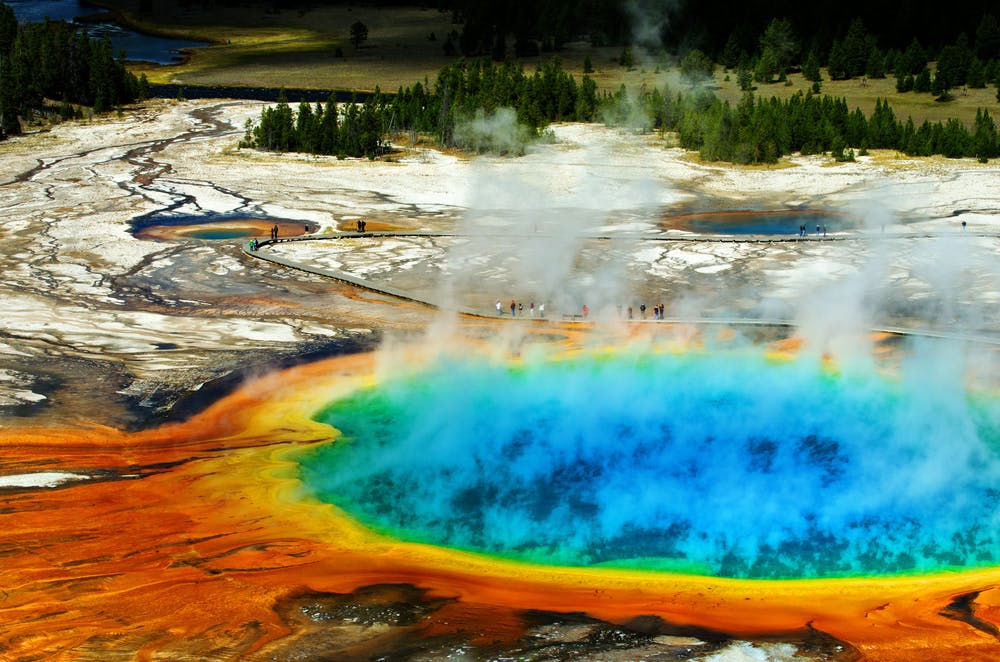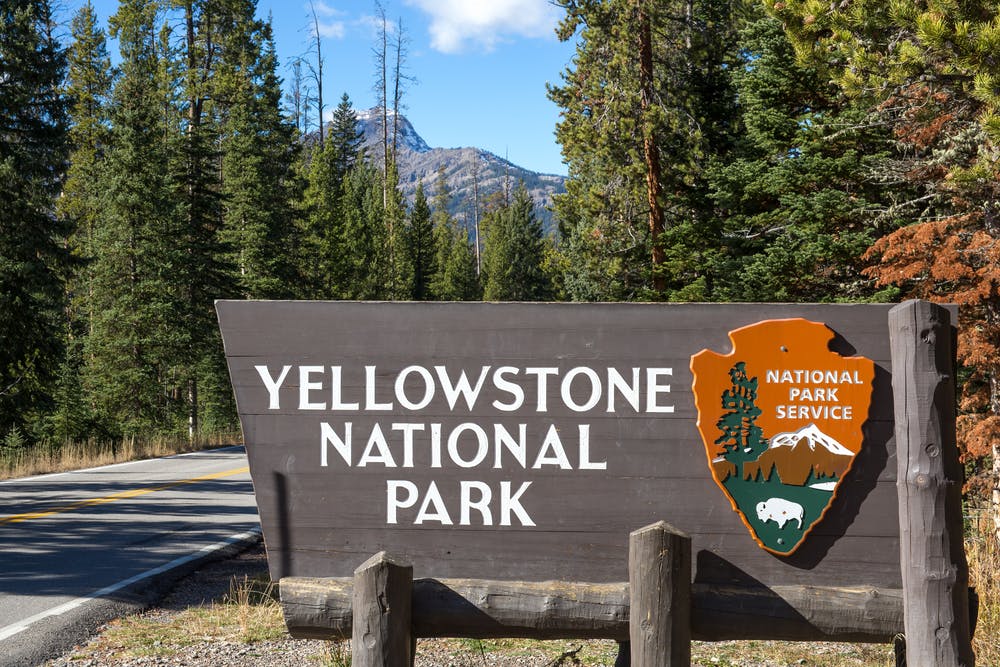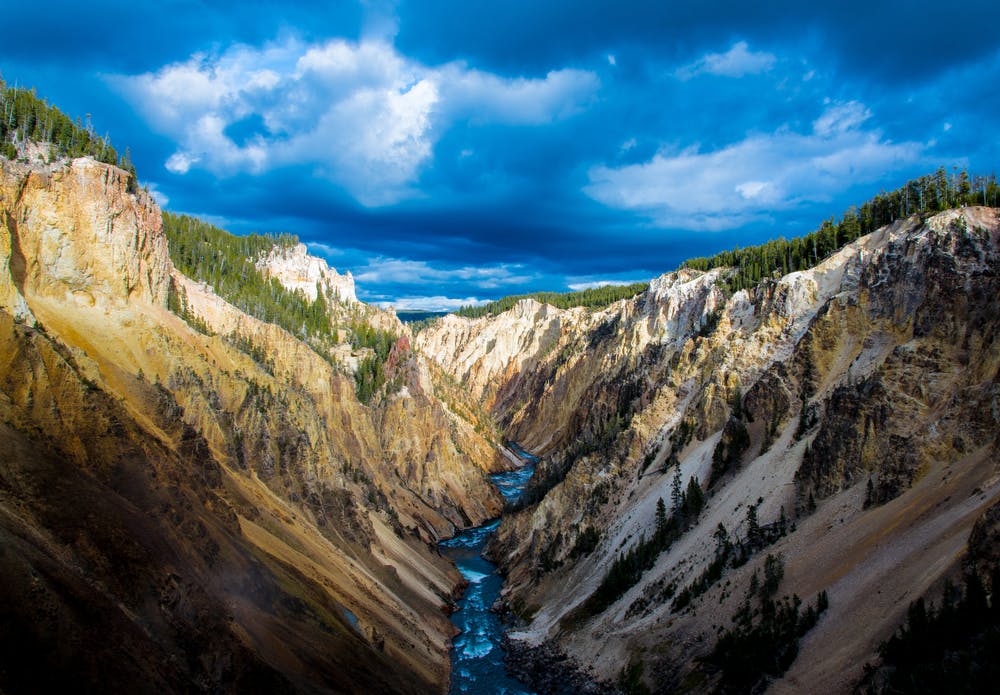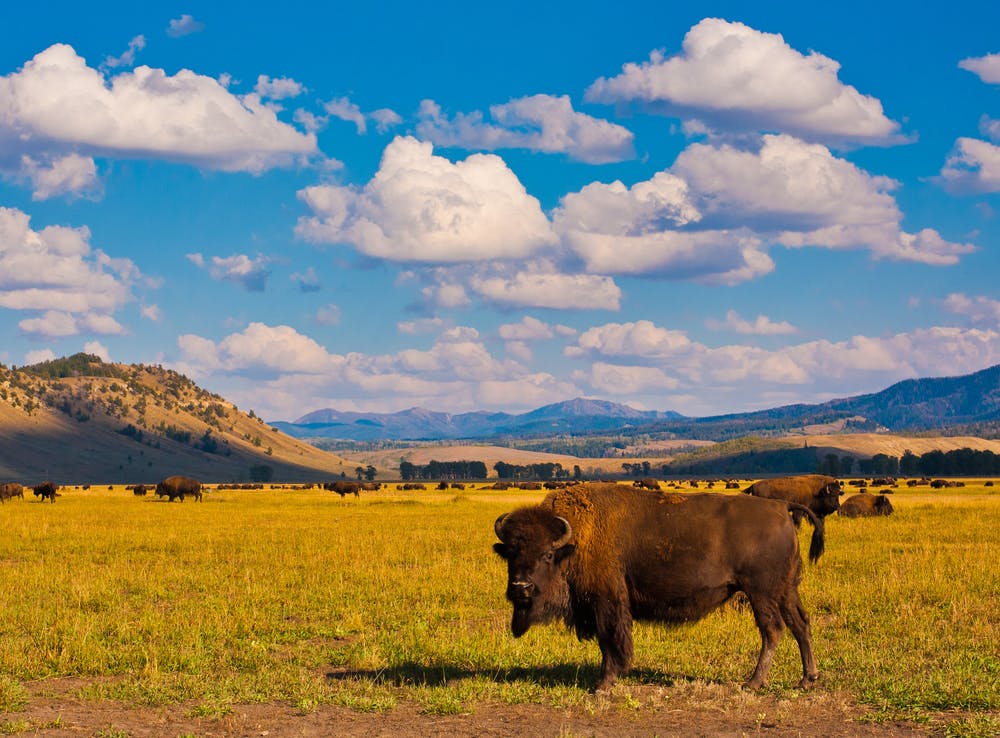 Yellowstone National Park has the distinction of being the very first National Park ever formed in the country. It covers almost 3,500 miles, including areas of Wyoming, Montana, and Idaho. Yellowstone sits on top of a dormant volcano and is home to more geysers and hot springs than anywhere else on earth. Those features, along with sweeping views of the Rocky Mountains, and glimpses of a variety of wildlife that call the park home, offer plenty of things to explore within the park.
Since most of Yellowstone is over 6,000 feet above sea level, weather in the park is unpredictable. You can expect rain or snow during every month of the year, so no matter when you visit, bring a warm jacket and rain gear and layer up. Spring and fall temperatures tend to be in the 30s-60sF during the day and drop to the teens and single digits at night. During the summer, temperatures are usually around 70-80F with cool nights that may still drop below freezing. And during the winter, temps can range from 0-20F during the day and dip below zero at night.  
There are several towns outside the park, including the popular vacation destination of Jackson Hole, WY. Whether you want to head out on a horseback ride or fishing trip, or indulge in upscale shopping and dining, you'll find something to suit your tastes in Yellowstone and the nearby towns.
Weather
Spring 30-60 F
Summer 70-80 F
Fall 30-60 F
Winter 0-20 F
Nearby Cities
Jackson Hole, WY
Island Park, ID
Cook City, MT
Gardiner, MT
Trip Planner
Use our FREE RV trip planner to begin customizing the perfect RV trip.
Continue
RV Resorts & Campsites in Yellowstone National Park
There are plenty of public and private campgrounds available in and near Yellowstone. Be sure to make reservations well in advance, as campgrounds can fill up quickly. Also, most campgrounds are not open year-round, so check to make sure yours is open when you want to travel.
Public Campgrounds
Private Campgrounds
RV Rentals Near Yellowstone National Park
Nearby RV Rentals
Hit the Trails
There are many places in Yellowstone to hike. Get a better look at Old Faithful and surrounding hydrothermal activity, spend a day at the lake, or tackle a mountain peak for a birds-eye view of the park. Be sure to bring plenty of water and check these safety tips before you leave to ensure a great hike!
Old Faithful Area Trails
Grand Prismatic Spring Overlook
Distance: 1.2 miles, round trip
Terrain: A gradual climb of 105 feet from the Fairy Falls Trailhead to a lookout over Grand Prismatic Spring and the Midway Geyser Basin.
Sentinel Meadows & Queen's Laundry
Distance: 3.8 miles, round trip
Terrain: Follows the river, then through meadows, past sinter mounds of hot springs and the remains of the old bathhouse at Queen's Laundry.
Lone Star Geyser
Distance: 4.8 miles, round trip
Terrain: The pleasant, partially paved trail follows an old service road beside Firehole River to the geyser. Lone Star Geyser erupts about once every three hours.
Fairy Falls
Distance: 6.7 miles, round trip
Terrain: Hike through a lodgepole pine forest to one of Yellowstone's most spectacular waterfalls, then on to Spray and Imperial geysers.
Mallard Lake
Distance: 7 miles, round trip
Terrain: The trail crosses Firehole River, passes Pipeline Hot Springs, and climbs hills of partially-burned lodgepole pine and open, rocky areas to the lake.
Lake & Fishing Bridge Trails
Pelican Creek Nature
Distance: 0.6 miles, round trip
Terrain: Short, diverse trail through forest to the lakeshore which provides a great spot for birding.
Storm Point
Distance: 2.3 miles, round trip
Terrain: Trail begins in open meadows, passes a pond before turning into the forest and out to scenic, windy Storm Point.
Natural Bridge
Distance: 2.5 miles, round trip
Terrain: Hike through forest to a short but steep switchback trail to the top of the bridge, then along a creek bed where rocks can be wet and slippery.
Elephant Back Mountain Trail
Distance: 3.5 miles, round trip with elevation gain of 800 feet
Terrain: Dense lodgepole forest to an overlook providing a sweeping view of Yellowstone Lake and surrounding areas.
Avalanche Peak
Distance: 5 miles, round trip with elevation gain of 2,100 feet
Terrain: One of the most strenuous hikes in the park. Talus slopes and a narrow ridgeline at the top, along with stunning views of the park's tallest and most remote peaks.
Canyon Area Trails
Cascade Lake
Distance: 4.4 miles, round trip
Terrain: Trail passes through open meadows to Cascade Lake. Plenty of wildflowers and wildlife.
Grebe Lake
Distance: 6.2 miles, round trip
Terrain: Follows an old fire road through meadows and forest.
Observation Peak
Distance: 9.6 miles, round trip
Terrain: Hike to a high mountain peak for a spectacular view of Yellowstone wilderness.
Seven Mile Hole
Distance: 10 miles, round trip
Terrain: Begin walking the canyon rim with views of Silver Cord Cascade, eventually drop more than 1,000 feet in 2.3 miles.
Howard Eaton
Distance: 10.7 miles, one-way that begins and ends on different trailheads
Terrain: Can be wet and muddy. Trail passes four lakes, forest, meadow, and marsh.
What to Do at
Yellowstone National Park
After you've visited the geysers and hiked the mountains and streams of Yellowstone, you may be ready to try some other adventures nearby. Enjoy a delicious meal, search for unusual souvenirs, or visit a museum to learn more about the area. Here are a few of our recommendations for activities around Yellowstone National Park.
Type: Upscale Dining
Location: Grant Village, Yellowstone National Park
Type: Burgers
Location: Old Faithful area, Yellowstone National Park
Type: Barbeque
Location: Yellowstone National Park
Type: Spanish
Location: West Yellowstone, MT
Type: Bistro
Location: Teton Village, WY
Fishing Bridge General Store
Find western jewelry, sculptures, Pendleton blankets, Native American pottery, and other unique items to remind you of your visit! The store also sells furniture and other things that remind you of the "Spirit of Yellowstone."
Location: Fishing Bridge, Yellowstone National Park
Old Faithful General Store
Shop…and visit a spot on the National Register of Historic Places. Browse clothing, artwork, and artifacts with a one-of-a-kind geyser view.
Location: Old Faithful area, Yellowstone National Park
Made
Find unique Western wear, including a wide selection of belt buckles for men and women, and a variety of clothing, jewelry, and home goods.
Location: Jackson Hole, WY
Accentuate
Women's clothing and beautiful jewelry with a Western twist (think gold antler necklaces and animal skull leggings).
Location: Jackson Hole, WY
Fighting Bear Antiques
Take home a bit of the West with rustic furniture, American Indian beadwork, Navajo rugs and fine antiques.
Location: Jackson Hole, WY
The five museums at the Buffalo Bill Center cover the areas of Western art, natural history, Plains Indians, firearms, and a Buffalo Bill Museum, and tell the story of the American west. There are exhibits, live performances, and special events to help the history of the area come alive.
The museum houses over 5,000 items of animal art from 2500 BC to the present. They are especially known for their collection of American art from the 19th and 20th centuries and include pieces by Ansel Adams and George Catlin. The Children's Discovery Gallery includes an artist's studio where they can create, a life-size diorama, animal costumes, a reading nook, and a puppet theater.
This museum in Bozeman, Montana, houses the country's largest collection of North American dinosaur fossils found in and around Montana. The museum is a world-class dino research facility whose former Curator of Paleontology consulted on all of the Jurassic Park films. Be sure to visit the Living History Museum and the Planetarium on the grounds of the museum as well.
It's only fitting that the first National Park in the country hosts a museum dedicated to the tireless keepers and protectors of those parks. A 25-minute film shares more on the history of the profession, and retired rangers are on-hand to talk more and answer questions.
See exhibits about the hydrothermal features of Yellowstone National Park, get general information about the park, and visit the bookstore for even more information on the geysers and other features that make the park so unique.
Grand Teton National Park
Grand Teton National Park is right next door to Yellowstone. It's worth spending some time admiring the breathtaking vistas and exploring the creeks and lakes in the park.
Jackson Hole
From Nordic skiing to hiking, to world-class shopping and eating, Jackson Hole has plenty to see and do.
See a Rodeo
Wyoming is knowns as the Rodeo Capital of the West so many towns in the Yellowstone area hold rodeos. Find a place to watch bareback bronc riding, bull riding, steer roping, and more here.
Upper Mesa Falls
Choose from the Mesa Falls Nature Trail to Lower Mesa Falls, or walk the boardwalk to Upper Mesa Falls for beautiful waterfall views.
Yellowstone Bear World
Drive through this wildlife park and look for elk, bison, deer, mountain goats, and - of course - bears.
How to Get to
Yellowstone National Park
There are many options to get to Yellowstone National Park. You can reach the park by plane, car, or RV. Yellowstone has five entrances, depending on which direction you'll coming from. Note that the only road to the park that is open year-round is from the North Entrance at Gardiner, MT, through the park to Cooke City, MT. During the winter, most other park roads switch to oversnow travel and can only be reached by snowmobiles and snowcoaches.
By plane
If you're flying into the area, Jackson Hole, WY has the closest airport and offers flights from a few major airlines. Billings, MT will likely offer cheaper flights and is about 172 miles away. To reach the park, take I-90W to US-89S in Livingston. Drive to US-89 which will take you into the park.
By RV
Another way to travel to and through Yellowstone is by renting an RV. RVing allows you to travel in comfort and to move with ease. If you don't own an RV, RV rentals are available. You can fly into town and rent an RV near Yellowstone, or consider renting one in your hometown to drive to the park.
There are plenty of RV campgrounds in and around Yellowstone, just be sure to check that the campground is open at the time of year you're planning your trip. Also, keep in mind that most sites require you to make reservations well in advance.
View RV Rentals
Entering Yellowstone National Park
While there is a fee to enter Yellowstone National Park, there are several free entrance days which you can find here. Also, if you have a fourth grader, be sure to apply for the
Every Kid in a Park Pass, which allows them and everyone in the vehicle with them free entrance into all national parks for the year. You can find out more about the program here. You can also purchase Annual Passes and Lifetime Senior Passes here.
Private Vehicle : $35
Private, non-commercial vehicles (15 passenger capacity or less) and all occupants. Good for seven days
Motorcycle or snowmobile : $30
Valid for one private, non-commercial motorcycle or snowmobile
Per Person : $20
One individual with no car (bicyclist, hiker, skier)
A visit to Yellowstone National Park is one you'll remember for a lifetime! The beautiful landscape and awe-inspiring mountains, along with the geysers and other hydrothermal features at the park make it a one-of-a-kind experience. At RVshare, we delight in helping people experience the outdoors and spend time creating memories with loved ones. RVing is a wonderful way to explore new places with family and friends. Whether you visit Yellowstone in an RV rental from us or on your own, we want to hear about it! Be sure to send us photos at memories@rvshare.com, and tag us on social media to share details and tips about your visit. Your adventures could be featured on our blog or social media channels!