White Sands National Park
New Mexico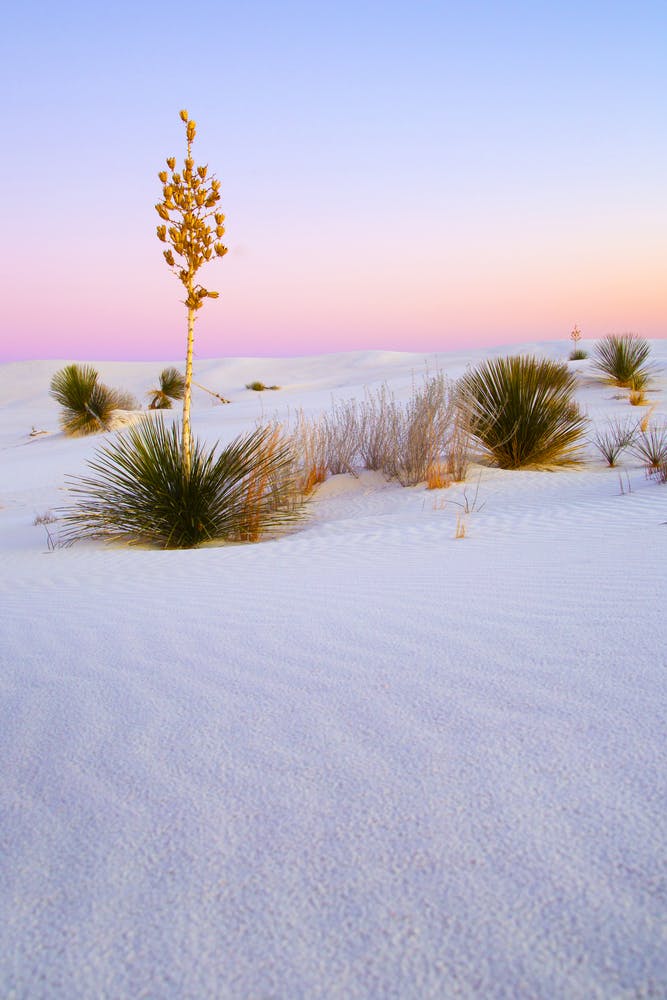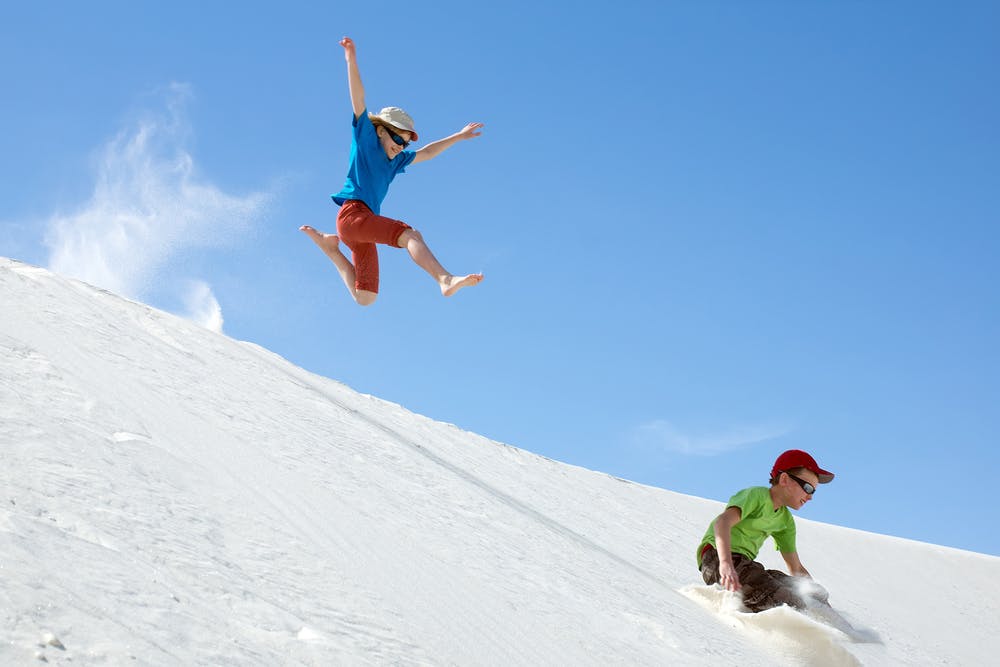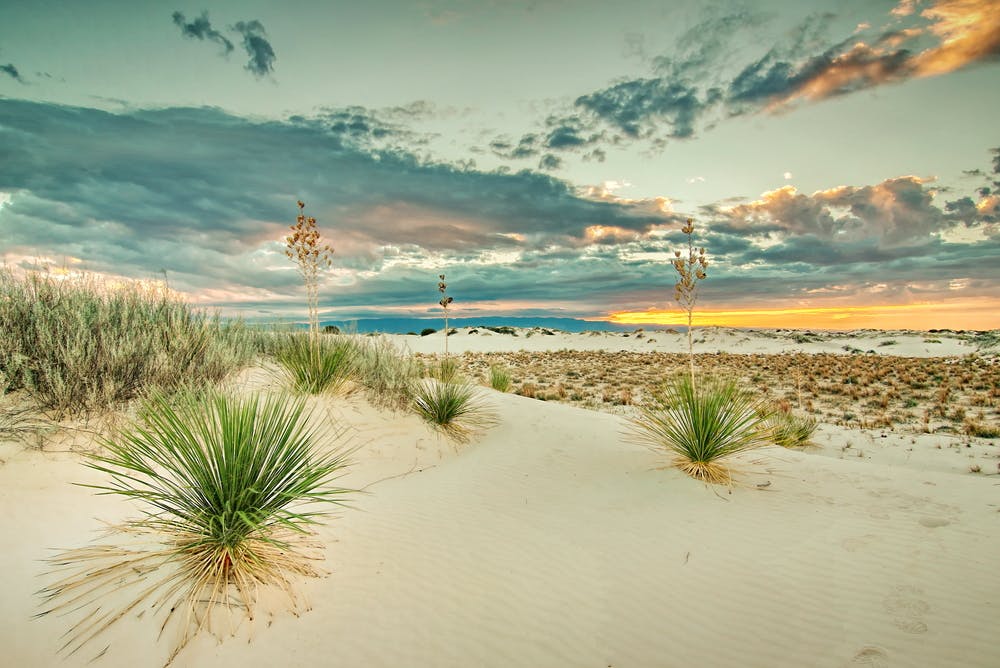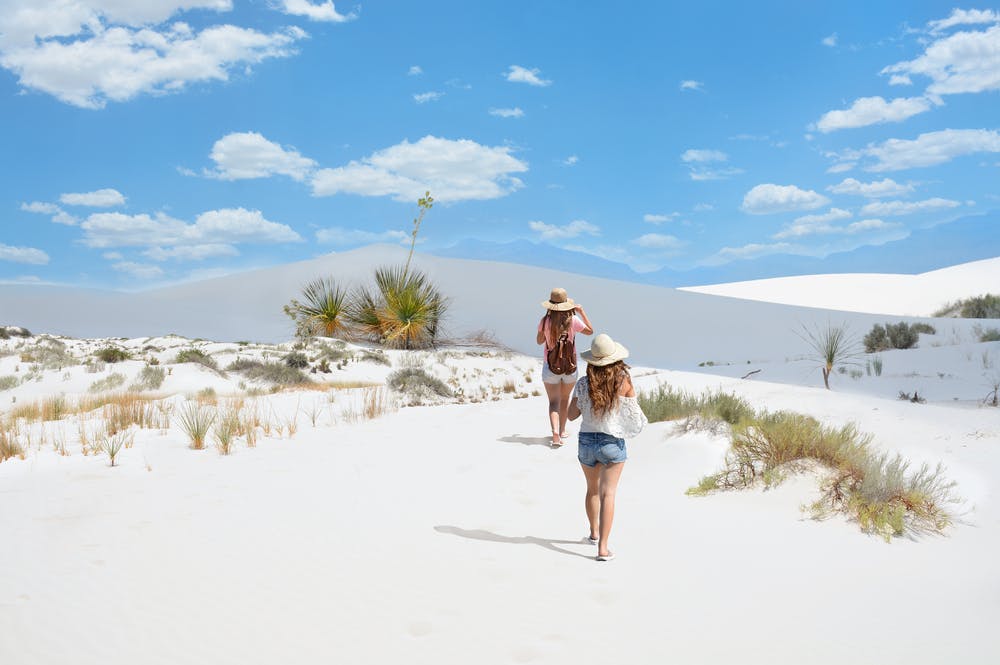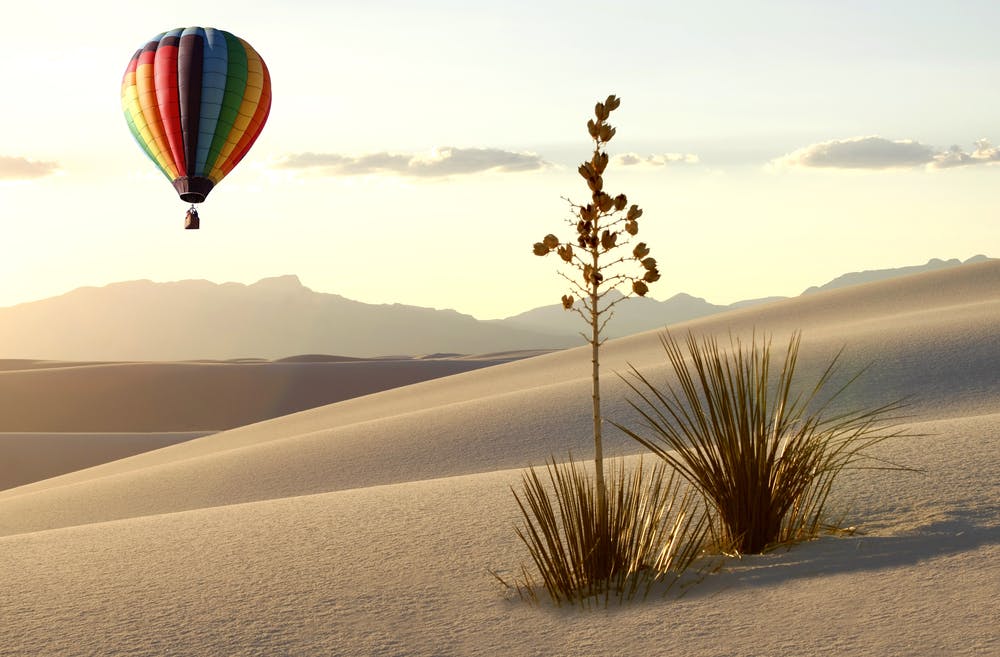 >

White Sands National Park
A long-standing national monument, White Sands National Park had its designation upgraded in December of 2019 — and for good reason. This surreal field of gypsum sand dunes, tucked into the south-central portion of New Mexico, has dazzled visitors for decades. Along with its stunning beauty, it also has a fascinating historical and cultural context: surrounded by military installments, this part of the country is often used to test defensive technologies such as missiles, lending it an even more otherworldly, and perhaps even eerie, quality.
That said, White Sands is a cheerful place as well; families gather to sled down the dunes, and adventurers take to the sands for hiking, horseback riding, and just taking it all in. The national park is located in a relatively remote stretch of the southwestern desert, and the closest New Mexican communities are La Luz, Alamogordo, and Las Cruces.
Human beings have inhabited and passed through what we know today as White Sands National Park since time immemorial — as long as 10,000 years ago. The land also has cultural and traditional importance for the Apache, Tampachoa (Mansos), and Piro people. Learn about their history here.
As far as landscape characteristics, White Sands is known for — you guessed it — its white gypsum sand dunes, which, covering 275 square miles of the desert, is the largest such gypsum dune field of its kind. The park is also home to a variety of plant and animal life, including roadrunners, coyotes, bobcats, and more than 600 species of invertebrates. It's also been the site of fossilized footprint findings, by which scientists have learned about a variety of its ancient citizens, like dire wolves, mammoths, and saber-toothed cats. Given its southern desert location, it's no surprise to most visitors that White Sands can get extremely hot during the summer months, with temperatures frequently nearing (or reaching) the triple digits; the sub-freezing winter nights are often more surprising.
Weather
Spring 40-75 F
Summer 50-110 F
Fall 40-80 F
Winter 23-60 F
Nearby Cities
La Luz, NM
Alamogordo, NM
Las Cruces, NM
Trip Planner
Use our FREE RV trip planner to begin customizing the perfect RV trip.
Continue
RV Resorts & Campsites in White Sands National Park
While there is no RV parking or camping inside White Sands National Park, the park does offer some backcountry camping options for those looking for a rugged, wilderness experience. 
That said, if you're looking for a quick upgrade to your road trip, it's hard to beat an RV for style! You'll be able to enjoy all the freedom and flexibility of the road while knowing exactly where you'll lay your head each night, and even make your own meals if you want to! Check out the RVshare rental listings available in your area today.
For more camping options near White Sands National Park, check out Campendium and freecampsites.net.
RV-Friendly Campgrounds Nearby
RV Rentals Near White Sands National Park
Nearby RV Rentals
Hit the Trails
White Sands National Park offers five established trails, which range in length, difficulty level, and scenery to ensure there's something for every visitor. Each trail is marked with posts bearing a specific color and symbol, and park rangers have maps and more information available at the Visitor Center. 
As in all cases, it's extremely important to ensure you have enough water and sunscreen for your hike, and the NPS recommends visitors don't start a hike if the current temperature at White Sands is higher than 85 degrees Fahrenheit.
Interdune Boardwalk
Distance: 0.4 miles
Terrain: Easy | This wheelchair-and-stroller accessible boardwalk winds its way through the dunes while helping visitors get more familiar with the landscape, thanks to interpretive and educational signage and exhibits.
Playa Trail
Distance: 0.5 miles
Terrain: Easy | A level, self-guided trail, this pathway will highlight the constant changes of this landscape, even offering visitors the opportunity to go back in time and see what the playa looked like 10,000 years ago.
Dune Life Nature Trail
Distance: 1 mile
Terrain: Easy to moderate | This trail, while mostly easy, does require visitors to climb two dunes with loose sand. However, the view is well worth it, especially given the fact that this trail is a popular place for much of the local wildlife to hang out.
Backcountry Camping Trail
Distance: 2 miles
Terrain: Moderate | You don't have to be a backpacker to take advantage of this trail, which leads hikers through a varied landscape exhibiting much of the park's characteristic flora. Hikers must ascend several dunes; no toilet or water facilities along the trail.
Alkali Flat Trail
Distance: 5 miles
Terrain: Strenuous | Skirting the remains of what was once Lake Otero, this workout of a hike ascends and descends dunes again and again. In other words, despite its name, it's not flat… but it is a beautiful view!
What to Do at
White Sands National Park
Although it would be easy to spend an entire weekend — or even an entire lifetime — getting lost in the majesty of the dunes, every adventurer needs to stop for a meal now and again, and nearby missile tests mean that sometimes the park won't be accessible. Fortunately, there's plenty more to see and do nearby; here are just a few ideas.
If you don't have Mexican food while you're in New Mexico, well… you just haven't really made the trip. CJ's Si Señor Restaurant is a beloved local favorite dishing up all the classics; do yourself a favor and ask for it "Christmas style" when they ask if you want red or green chile.
Type: Mexican
Location: Alamogordo, NM
If you're looking for a hearty treat to fill you up after a long day's adventuring, Rockin' BZ Burgers has got you covered. Their fresh, never-frozen ground chuck patties are served up hot and styled exactly as you like 'em, accompanied by fries, drinks, and even chicken wings if you choose.
Type: Burgers
Location: Alamogordo, NM
Southern New Mexico isn't exactly the deep south, but you can still enjoy some authentic barbecue while you're in town. With affordable combos to fill you up and ensure you get a taste of all of their delicious recipes, Can't Stop Smokin' BBQ is a can't-miss Alamogordo hit.
Type: BBQ
Location: Alamogordo, NM
Shopping
Forgot something imperative — or just need a souvenir? Here are some shopping options in the White Sands National Park area.
From helpful guidebooks on the area to stamps and stickers for your National Park Passport, no NPS-location trip is complete without a visit to the on-site Visitor Center! This one is especially important, since it's the best place to rent or purchase a sled to scoot on down the dunes with.
Location: Inside the park
No matter what you have your heart set on, chances are you can find it at the White Sands Mall, which offers dozens of shopping and dining options. From department stores like J.C. Penney's to U Top It Frozen Yogurt, the mall is a great alternative option if the New Mexico monsoon season has you stuck outside of the park.
Location: Alamogordo, NM
Museums
One of the best parts of any national park visit is how much you get to learn! Here are some other places in the area where a visit might teach you a thing or two.
When you think of American space history, you might first think of the east coast, or maybe Texas. But Alamogordo is home to the New Mexico Museum of Space History, one of the most comprehensive exhibits about this important piece of the American story — as told through artifacts, interactive displays, and films screened in the museum's domed IMAX theater.
Location: Alamogordo, NM
Dedicated to the brave people who have fought and defended our freedoms, the American Armed Forces Museum is a must-visit for anyone with a connection to the armed services… as well as all of those who could stand to learn a thing or two about our nation's soldiers.
Location: La Luz, NM
It's hard to spend much time in White Sands without wanting to know more about the missiles and other defensive technology that's been tested here. You can learn all about these defensive weapons at the White Sands Missile Range Museum, which shows how these tools have evolved over time.
Location: White Sands, NM
Sightseeing
It may be a desert, but it's brimming with things to see and do! Here are some other sites to consider adding to your itinerary while you're in the White Sands area.
Truth or Consequences
This town's name was actually its prize winnings as awarded by a radio show in the 1950s. But what the real draw is for you, the visitor, is its array of splendid spa-style hot springs, which are a great way to relax after a long and strenuous adventure.
Location: Truth or Consequences, NM
Okay, it might be a bit of a drive… but we couldn't let you go to New Mexico without knowing about one of the coolest scientific and technological attractions open to visitors. The Very Large Array is an astronomical radio telescope array, which actually consists of 27 radio antennas that can be precisely moved and adjusted to help scientists study celestial bodies thousands of lightyears away. Even if it doesn't sound interesting to you, there's something about being there that really puts things in perspective; however, it's only open to the public on select days, so be sure to plan well before you make the drive.
Location: Socorro, NM
How to Get to
White Sands National Park
White Sands National Park is located just to the east of Las Cruces, New Mexico, and is accessible from that city via U.S. Route 70. It's about midway between Las Cruces and Alamogordo along that road. You can find directions to the national park by using your onboard GPS or smartphone navigational app, and there are also directions written out on the NPS website. The nearest large, American airport is in the city of El Paso, about an hour and a half away.
Entering White Sands National Park
To enter the park, you will be expected to pay a gate fee, as is the case at the majority of NPS-managed reserves and wildernesses. While a current fee schedule can be found here, the per-vehicle price at White Sands National Park is $20 at the time of this writing, and that fee gets a standard-sized vehicle and all passengers access to the park for up to seven consecutive days. Annual passes to the park are also available for $40, and the America the Beautiful Pass gets you into all NPS-managed sites for a year for $80. Check with the gate agent for full details on the passes and programs available to you.
Whether it's White Sands or another of our nation's beautiful landscapes that have caught your eye, there's no better way to see the countryside than in an RVshare RV rental. Our fleet of vehicles is offered by a network of trusted renter-owners and come in every shape, size, and footprint imaginable, giving you a one-of-a-kind opportunity to experience the authentic #RVlife. 
And by the way, we're eager to participate in your experience, too! Send photos and details of your trip to us directly at memories@rvshare.com, or tag us in your social media posts. We may just select your trip to highlight on our own social media channel or blog!