Shenandoah National Park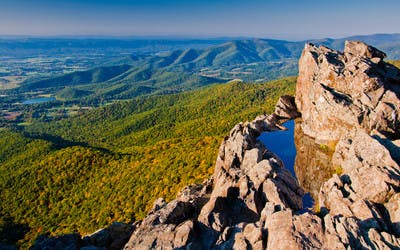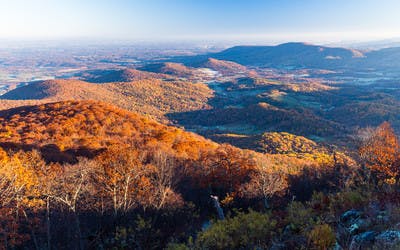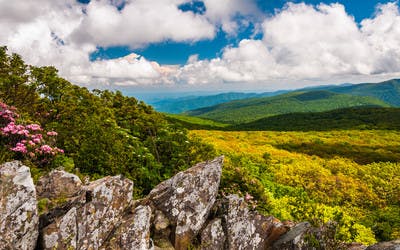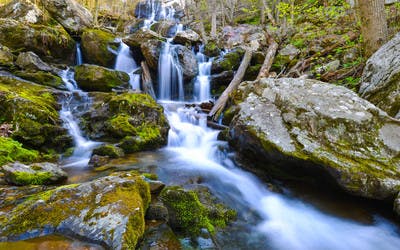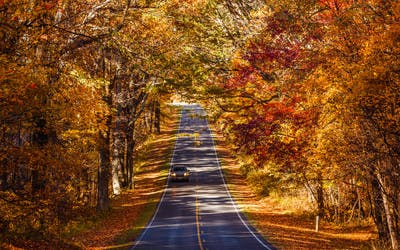 >

Shenandoah National Park
A stunning mountain retreat only a few hours' drive from major metros like Washington D.C., Virginia's Shenandoah National Park is one of the most beautiful in the country as well as one of the most convenient. Encompassing an area of about 300 square miles of the state's Blue Ridge Mountains, the park is home to diverse plant- and wildlife, featuring forests, waterfalls, and peaks reaching over 4,000 feet in elevation. It's bisected by the popular Skyline Drive, a scenic route running over 100 miles north and south along the crest of the park's mountains. For those who want a closer look at these captivating landscapes, ample hiking trails throughout the park allow deeper exploration -- including a long stretch of the famous Appalachian Trail.
The landscape today known as Shenandoah National Park is the ancient, ancestral home of a variety of Native American tribes, including but not limited to the Manahoac, Monacan, and Massawomeck peoples. It has served as an important touch point for Indigenous people for millennia -- since well before westerners ever knew the place existed. Learn more about the indigenous history of the park here.
The weather at Shenandoah can vary markedly, depending on both season and specific location. According to the park's official weather page, the mountains are usually about 10 full degrees cooler than the valley below -- and sudden storms can blanket the lands with rain, snow, and ice with little warning. Always be sure to check the latest forecast before setting out for your day's adventures.
Running a full hundred miles along the northwestern border of the state, Shenandoah National Park is served by a wide variety of neighboring cities and towns, including Harrisonburg, Waynesboro, Sperryville, and Front Royal. The southern end of Skyline Drive is only a short drive away from the relatively big city of Charlottesville.
Visitors are attracted to Shenandoah for a wide range of outdoor recreational opportunities, from hiking and mountain biking to rock climbing, fishing, horseback riding, and more. The park also hosts an array of special events and ranger-led programs which can help you learn more about this area's unique history and landscape. Check the park's official calendar page for full details about what's going on during your stay.
Weather
Spring 40-79 F
Summer 60-83 F
Fall 41-75 F
Winter 22-44 F
Nearby Cities
Front Royal, VA
Trip Planner
Use our FREE RV trip planner to begin customizing the perfect RV trip.
Continue
RV Resorts & Campsites in Shenandoah National Park
Along with several on-site lodges and ample backcountry camping opportunities across its 200,000 acres, Shenandoah National Park also boasts five developed frontcountry campgrounds, four of which are RV friendly. Motorhome and travel trailer drivers can also choose from a variety of privately-owned campgrounds in the surrounding area.
RV Camping at Shenandoah National Park
RV Camping in the Greater Shenandoah National Park Area
RV Rentals Near Shenandoah National Park
Nearby RV Rentals
Hit the Trails
From challenging peaks to serene waterfalls, there's an outdoor adventure for everybody at Shenandoah. Plus, the famous Appalachian trail runs the full 105-mile length of the park from south to north, making it and its surrounding towns a popular destination for through-hikers.
Shenandoah is one of the few national parks that allows pets on its trails, though they must be kept on a leash measuring no more than six feet at all times. Furthermore, pets are prohibited on the following trails: Fox Hollow, Stony Man, Limberlost, Dark Hollow Falls, Story of the Forest, Bearfence Rock Scramble, Frazier Discovery, Old Rag Ridge and Old Rag Saddle. Click here for full details about regulations and important safety precautions to keep in mind while hiking in Shenandoah National Park.
Shenandoah National Park Trails
Fort Windham Rocks
Distance: 1 mile
Terrain: This easy, relatively flat trail leads through forest cover and past rock formations, and is good for families with children.
Little Devils Stairs
Distance: 5.5-mile loop
Terrain: As its name suggests, this is a challenging trail with steep ascents and rock scrambles. It leads past streams and waterfalls as well as offering stunning valley views.
Millers Head
Distance: 1.6 miles
Terrain: Mostly easy with a few steep sections, this trail leads to a spectacular viewpoint and also offers good opportunities for viewing wildlife.
Old Rag Mountain
Distance: 9-mile loop
Terrain: This trail is both one of the most popular and one of the most challenging in the park, featuring over 2,400 feet of elevation gain, steep switchbacks, and boulder scrambles. However, the trail rewards brave hikers with sweeping views from the mountain's summit.
Rose River Loop
Distance: 4-mile loop
Terrain: Accessible year-round, this moderate trail leads past multiple cascading waterfalls and is seasonally lined with beautiful wildflowers. It gains about 800 feet in elevation over the course of its four miles.
What to Do at
Shenandoah National Park
The Shenandoah Valley has been a cultural hotspot in the Appalachian region for hundreds of years, and you can participate in the legacy of that history today. From delicious local eats to fascinating educational opportunities, there's tons to see and do outside of the park proper.
Restaurants
Even the most dedicated outdoorsman -- or woman -- has to stop to eat sometime! Whether you're looking for a spicy post-trail calorie restorer or an upscale date-night delight, here are a few of the best spots to sample in the Shenandoah area. (For more information about food and grocery stops along Skyline Drive, click here.)
Named one of the best burger joints not just in the Shenandoah Valley, but in America, Jack Brown's also offers over 100 craft beers -- so you'll be sure to find something tasty to wash down that juicy beef with.
Type: Burgers
Location: Stonewall
A local favorite since its inception in 1972, Melting Pot Pizza offers make-your-own pies as well as a host of delicious house specialties, like a sirloin-topped white pizza and a hearty meat lover's version.
Type: Pizza
Location: Front Royal
Waynesboro, Virginia is quite a ways from the Mexican border… but you'll forget all about those miles when you walk into Mi Rancho. Spice up your night with authentic classics like enchiladas and tamales, then finish it off with a heaping helping of fried ice cream.
Type: Mexican
Location: Waynesboro
Local, regional specialties served seasonally from March to October. Don't forget to save room for the house favorite, Mile-High Blackberry Ice Cream Pie!
Type: Farm to Table
Location: Skyland (inside the park)
Shopping
From groceries to gear, chances are you're going to need something during your journey. Here's where to stop and grab those last-minute essentials.
Need a new pair of hiking boots or a replacement paddle before you head out into the wilderness? Visit this local Charlottesville outdoor sports outfitter for all your gear and goodies.
Location: Charlottesville
From guides explaining the local wildlife and helping you navigate the park's trail system to T-shirts, mugs, and other take-homeable souvenirs, the park's onsite bookstore locations have you covered. Psst -- don't forget to get your national parks passport stamped!
Location: Dickey Ridge and Harry F. Byrd, Sr. Visitors Centers (inside the park)
Featuring a sprawling Martin's grocery store and fuel station, this Waynesboro shopping center is a great last stop to make sure you've got everything you need before you set up camp.
Location: Waynesboro
Specializing in all things backpacking, Yama Mountain Gear is a must-stop if you're planning on making a trek into the backcountry during your stay.
Location: Charlottesville
Museums
You can't be outside literally all the time, no matter how much you may long to. For rainy days (or those moments when your legs just can't take another trail), here are some great area museums and cultural attractions to keep you busy and entertained.
Learn about the history and way of life in the Shenandoah Valley as it's been for decades. A folk art collection and vast genealogical library are highlights at this beloved Harrisonburg museum.
Location: Harrisonburg
Open May through October by appointment, this museum features all sorts of antique automobiles and related memorabilia.
Location: Rapidan
A small children's museum with a big heart, the VADM celebrates "intermingled exhibit pieces, messy art projects, spontaneous dance parties, and making new friends!" Hard to argue with that!
Location: Charlottesville
Sightseeing
Yes, you could easily spend a lifetime exploring Shenandoah alone… but there's plenty more to be seen in the Appalachians.
Can't get enough of the great outdoors? These nearby national forests cover 1.8 million acres of some of the most beautiful lands in our country, covering parts of Kentucky and West Virginia as well as Virginia itself.
The largest caverns in the eastern United States, Luray's chambers soar at ten stories in height and are lined with fascinatingly beautiful rock formations. You'll also get to check out the Car and Carriage Caravan Museum, the Luray Valley Museum, and Toy Town Junction as part of your entry.
How to Get to
Shenandoah National Park
Thanks to Skyline Drive, Shenandoah National Park is easy to access by road from any direction. However, the park has only four entrance stations, which are located, in order from north to south, at Front Royal, Thornton Gap, Swift Run Gap, and Rockfish Gap. The nearest airports to the park include Washington Dulles International, Reagan National, Charlottesville-Albemarle, and Shenandoah Valley Regional, all of which are less than 100 miles from a park entrance. Click here for full details and driving directions to the park from a variety of orientations.
Entering Shenandoah National Park
Like many other NPS-managed recreational areas, Shenandoah National Park does charge a fee for entry. These funds go toward park improvement and maintenance, and 80% of collected fees are used for projects that directly benefit visitors. Here are the most recent entry fees for Shenandoah National Park, as per October 2018:
Private Vehicle : $30
Private, non-commercial vehicles (15 passenger capacity or less) and all occupants.
Motorcycle : $25
One or two passengers on a private, non-commercial motorcycle.
Per Person : $15
One individual with no car (bicyclist, hiker, pedestrian). Youth 15 and under are admitted for free.
Although there are many ways to get to Shenandoah National Park, traveling by RV is one of the best ways to ensure you get to relax and fully enjoy your vacation. By camping on-site or nearby to the park boundaries, you'll be able to fully explore the trails and get a jump on the action -- and when you're camping in a motorhome or travel trailer, you don't have to give up any of the comforts of home to do so. If you don't already have an RV of your own, consider renting through the peer-to-peer market at RVshare. RV owners offer a wide variety of RV rentals, which are available no matter where in the country your journey is starting from. And since private owners don't have to worry about footing the expensive overhead costs of running a business, they can pass on those savings to you in the form of much more affordable nightly rental prices.
No matter how you get to Shenandoah National Park or what you do once you arrive, we're eager to hear more about your Appalachian adventure -- in fact, we want all the juicy details and pictures we can get! Tag us in your social media posts or send the goods directly to our inbox at memories@rvshare.com. You may just see your story highlighted on our own blog or social media channels!