Saguaro National Park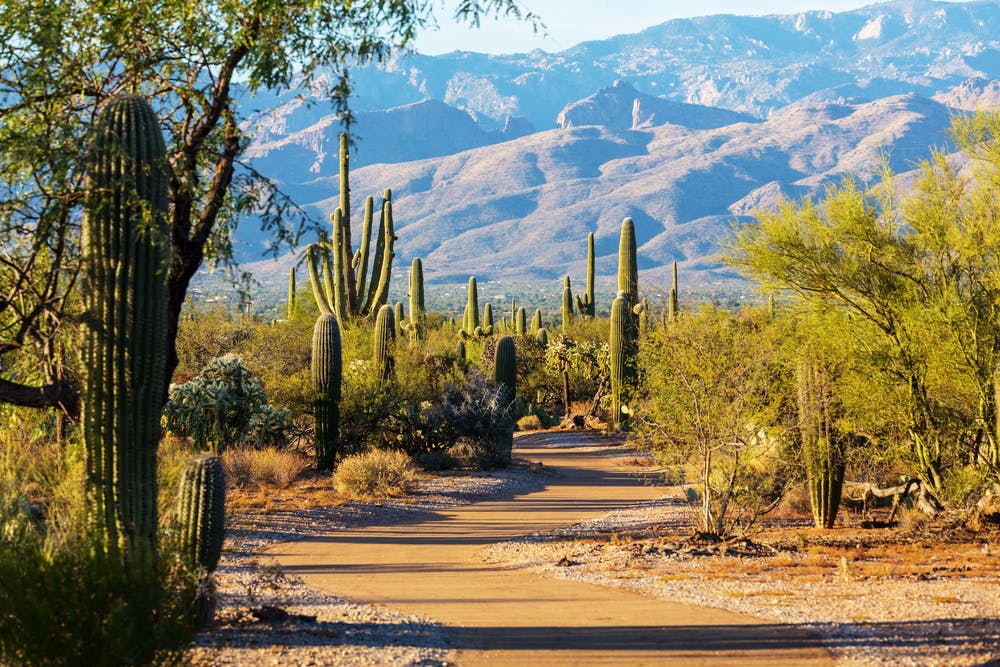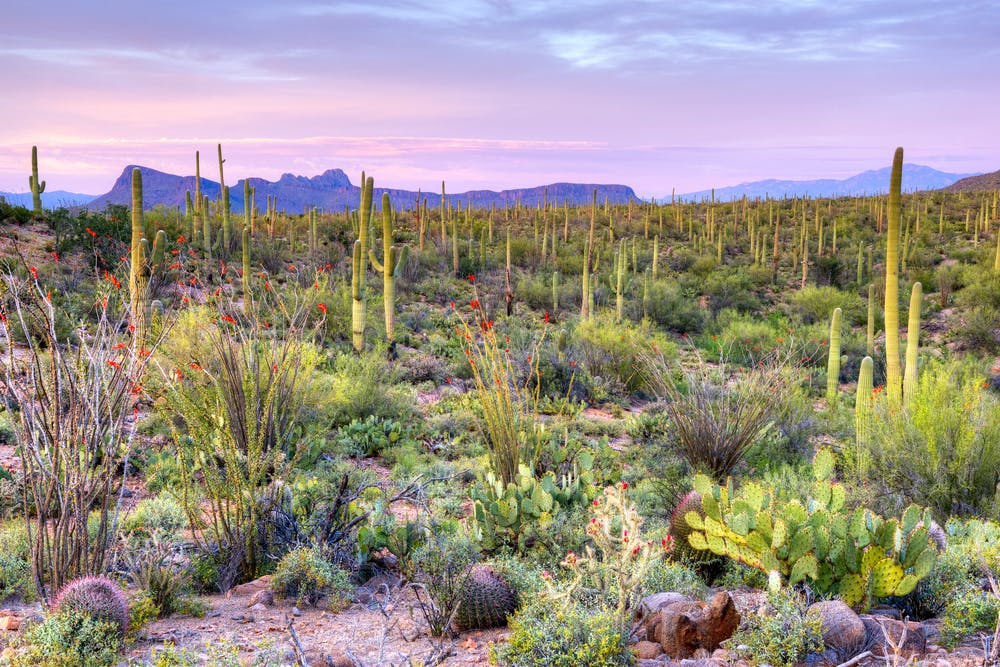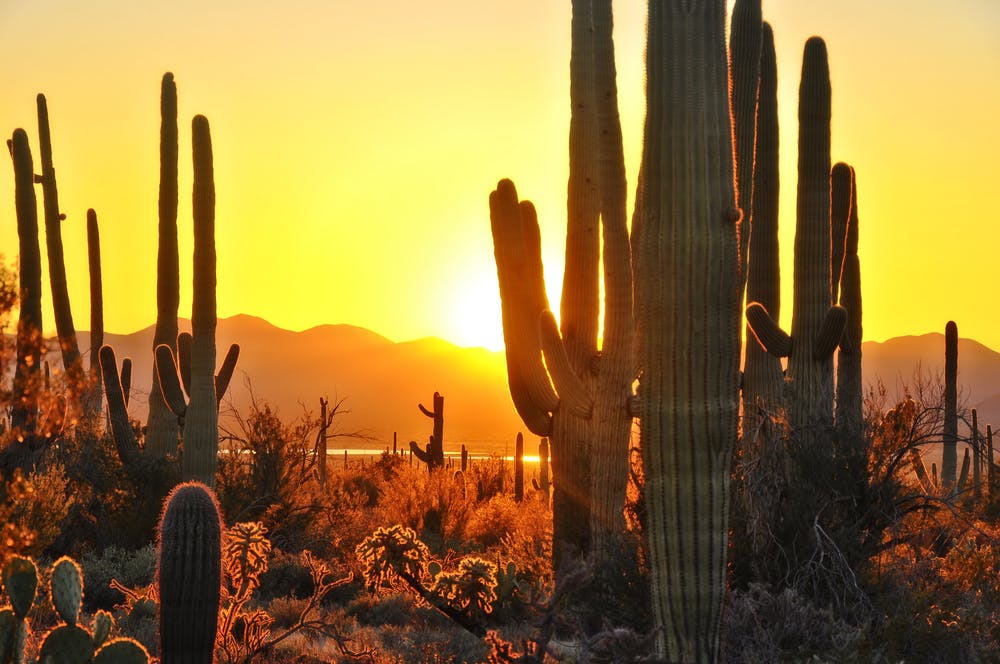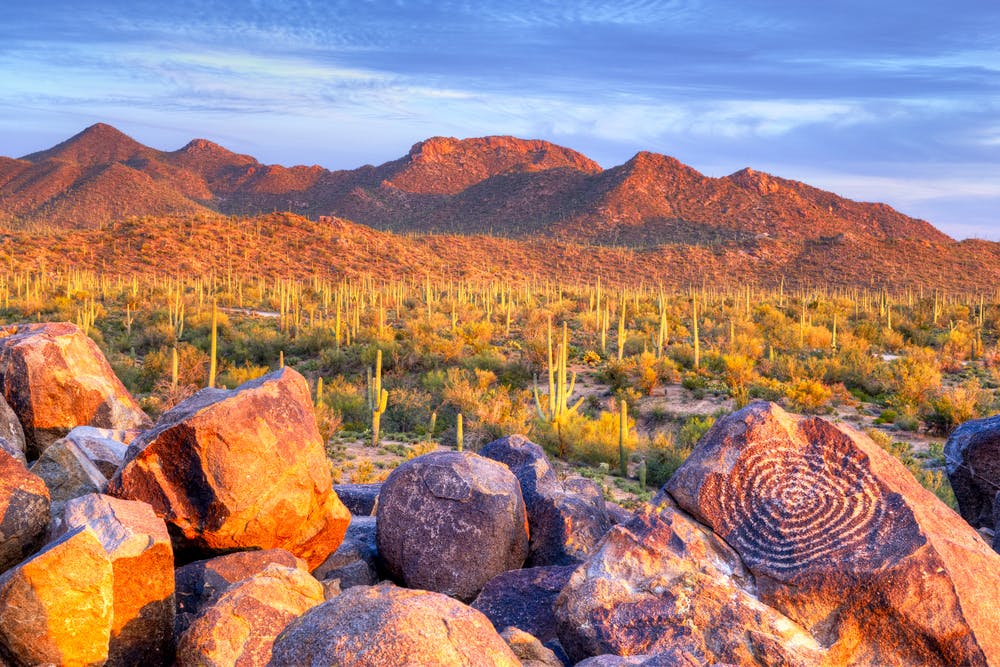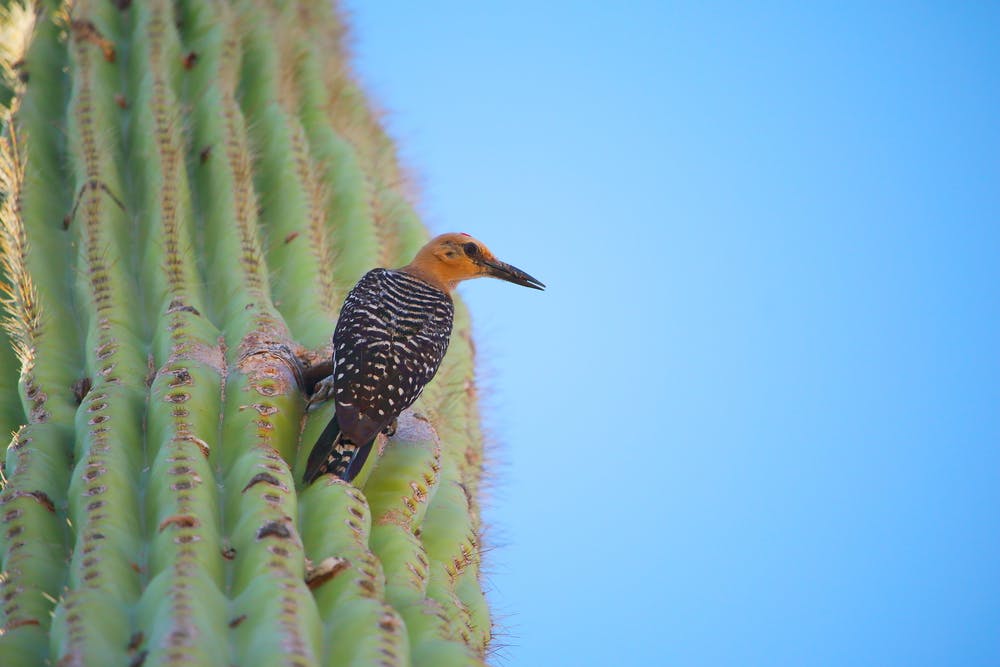 Located in Pima County in the state of Arizona, Saguaro National Park is the very best place to see the awe-inspiring saguaro cactus. These cacti can only be found in the Sonoran Desert, and have become a well-known symbol of the hot, dry American West. For this reason, thousands flock to Saguaro each year to drive and hike the hot desert in search of these majestic and beautiful cacti.
As one might imagine, the weather in Saguaro National Park is much like the weather in the rest of Arizona: hot and dry. It does cool off a bit in the winter months—when the daytime temperatures hover around 65°F—but summer temps can reach 110°F on the hottest days.
It's important to note that the park is located in a desert, so temperatures tend to drop rapidly at night and the area turns quite chilly even after the hottest days.
As mentioned earlier, the park is located in Pima County, AZ and actually juts out from either side of the relatively large city of Tucson. This is great because it means there's no shortage of things to see and do near the park. It also means there's plenty of lodging, shopping, and food nearby—something not many national parks can say.
Of course, if you're going to visit Saguaro, you'll want to be sure to actually enjoy it. Rather than spending the majority of your time in the city, why not get out in nature and enjoy some of the in-park activities offered at Saguaro? Many visitors enjoy hiking the park, while others prefer the scenic drives. Young children will love the Junior Ranger program offered here, and people of all ages can learn from the awesome ranger-led activities that are almost always on the schedule.
No matter what you decide to do, be sure to stick around for an incredible desert sunset, unlike anything you've ever seen before.
Weather
Spring 70-90 F
Summer 70-90 F
Fall 70-90 F
Winter 70-90 F
Nearby Cities
Tucson, AZ
Mesa, AZ
Phoenix, AZ
Scottsdale, AZ
Trip Planner
Use our FREE RV trip planner to begin customizing the perfect RV trip.
Continue
RV Resorts & Campsites in Saguaro National Park
In our opinion, visiting a national park should always include camping. Fortunately, there are plenty of camping options in and near Saguaro National Park. Choose from a privately owned park or go with a public camping area. Either way, you'll be glad you chose to get back to nature by camping during your visit.
Public Campgrounds
Private Campgrounds
RV Rentals Near Saguaro National Park
Nearby RV Rentals
Hit the Trails
Wondering about hiking in Saguaro National Park? Lucky for you, there are plenty of trails to choose from, and they're a lot more varied and interesting than you might expect from a desert park. In fact, we recommend you dedicate at least two days to hiking in Saguaro. You're going to want that much time to see things.
Here are some of our favorite trails in the park. To learn about other options, click here.
Easy Trails
Sweetwater
Distance: 8.6 miles round-trip
Terrain: Well marked; some stairs; beautiful wildflowers; cool rock formations
Mica View Loop
Distance: 3.7 miles round-trip
Terrain: Great for running; no shade; lots of wildlife and saguaro cacti
Cactus Forest Loop
Distance: 10.3 miles round-trip
Terrain: Paved; beautiful views; plenty of cacti; easy stroll
Moderate Trails
Bridal Wreath Falls
Distance: 5.6 miles round-trip
Terrain: Waterfall looks best in winter or spring; some steep spots; little to no shade
David Yetman
Distance: 11.9 miles round-trip
Terrain: Beautiful mountain views; views of historical homes; never too steep
Hugh Norris
Distance: 8.9 miles round-trip
Terrain: Some steep stairs; gorgeous views; ends at the top of a mountain
Hard Trails
Tanque Verde Ridge
Distance: 20 miles round-trip
Terrain: Gradual incline; lots of wildlife; beautiful views of the city
What to Do at
Saguaro National Park
Sure, you want to explore nature at the park. However, sometimes a bit of city life is nice too. When you're ready to enjoy a meal out or explore the city, you'll want to know where to go. Lucky for you, we've gathered a list of some of the best options, making your planning a quick and painless process so you can spend less time researching and more time having fun.
Restaurants
Let's start with food options. Tucson is full of awesome restaurants, making it the perfect place for a meal out. Be sure to try some incredible Mexican food while you're in the area, but don't limit yourself to only one type of cuisine, because there are plenty of other awesome options as well.
Shopping
Need a bit of shopping fun while you're in town? No worries! Tucson definitely has you covered in that department. (See what we did there?) Whether you're looking for groceries and essentials or a few fun gifts, you'll find just what you need in this awesome city.
Used books, music, and more pack the shelves of this fun and eclectic little shop.
This is an excellent place to find unique souvenirs and gifts. The shop features items and a wide variety of handmade items, making it a true one-of-a-kind place to look around.
A super fun grocery shopping destination, AJ's Fine Foods is the place you want to go when you want to try something new for dinner.
Need some new clothes? Looking for a pair of hiking boots? No matter what you're shopping for, you'll probably find it at the Tucson Mall.
This awesome shop is the perfect shopping destination for you outdoorsy types out there. Everything you could possibly need for your next outdoor adventure can be found on the shelves here.
Museums
Outdoor fun is wonderful, but sometimes a break from hot and/or rainy weather is necessary. In these cases, museums are an awesome opportunity to continue your adventures indoors.
Here are some of our favorite museums located near Saguaro National Park.
A wonderful opportunity to learn about life in the desert, the Arizona-Sonora Desert Museum features a variety of exhibits, including a number of wild animals. This is the perfect museum for families with kids, but would also be entertaining and educational for adults.
Do you love art? Tucson Museum of Art may be the destination for you. This museum is home to a wide variety of pieces and is a great way to be immersed in a world of art for a day. Be sure to check out their event schedule for even more art-focused fun.
Air travel is a fascinating thing for sure. That's why the Pima Air and Space Museum is such a popular destination for people of all ages. The museum boasts over 300 aircraft, each and every piece as wonderfully fascinating as the last.
Want to see something adorable? Head to the Mini Time Machine Museum of Miniatures. This fun attraction features a wide variety of miniatures that guests can enjoy marveling at for hours on end.
Animals are wonderful and mysterious and a fascinating subject that many people can't get enough of. Lucky for these individuals, museums such as the International Wildlife Museum exist. This museum features a variety of awesome exhibits all about beautiful and amazing animals.
Sightseeing
Wondering what else there is to see and do in the area? Quite a lot, actually. Check out these sights for a few fun days out.
An awesome place to take a hike alongside a lovely river, this park offers nice scenery and some wonderful picnic spots for lovers of the great outdoors.
There are plenty of awesome animals within Saguaro National Park. However, if you're looking for even more beautiful creatures to observe, Reid Park Zoo is the place for you!
Arizona is full of old mission churches, and many of them are absolutely gorgeous. Mission San Xavier del Bac is one of the prettier ones, and a must-see for visitors, especially those who happen to be religious.
A gorgeous park offering even more awesome hiking opportunities, Sabino Canyon Recreation Area is a great place to spend more time enjoying the beautiful outdoors during your visit.
An amazing scenic roadway with some incredible views, Gates Pass is another one of the gorgeous nature areas to check out in this area, and the perfect place to take an afternoon drive
The night sky is a truly wondrous thing, especially when viewed through a high-powered telescope. See it for yourself at the Kitt Peak National Observatory.
Old Tucson is an interesting place for sure. The place has served as the set for a variety of western films, and is now a western theme park open to the public.
How to Get to
Saguaro National Park
Traveling to Saguaro National Park by car is easy. That said, searching for your destination on a map app isn't likely to end well. Instead, try typing in the full address of your destination in order to ensure you're being directed to the right place.
Prefer to know directions before you go? This webpage has all the info you need to arrive safe and sound at the park so you can begin your adventure.
Those who must fly into Arizona before hitting the park should plan to fly into Tucson International Airport. This airport is a short drive from the park, making it an ideal place to begin your getaway.
Of course, you could also go ahead and make the long trek to Arizona by driving an RV. This will ensure you can take your sweet time getting to the park while still enjoying all the comforts of home. Additionally, having an RV with you makes camping a much more comfortable experience once you do arrive.
Don't have your own RV? That's okay! RV rentals are a great way to get your hands on a great getaway rig without making the huge investment required to purchase a motorhome or trailer.
Just remember that the camping areas inside of Saguaro are not RV-friendly. Therefore, you will need to reserve a spot just outside of the park.
Entering Saguaro National Park
Saguaro does charge a fee to enter. Guests can choose to pay the one-visit fee and enjoy the park for 7 consecutive days, or they can purchase an annual pass and enjoy numerous national parks all year long. Info on passes can be found here.
Those who choose not to purchase an annual pass will pay the following:
Private Vehicle : $15
Private, non-commercial vehicles (15 passenger capacity or less) and all occupants.
Motorcycle : $10
One or two passengers on a private, non-commercial motorcycle.
Per Person : $5
One individual with no car (bicyclist, hiker, pedestrian). Youths 15 and under are admitted for free.
Getting excited about your visit to Saguaro National Park? We're excited for you! In fact, we're so excited that we want to hear all about it.
Share your photos and the details of your trip with us by sending them to memories@rvshare.com or you can tag us on social media. Either way, sharing your trip with us means you'll have a chance at being promoted on the RVshare social media accounts!