Redwood National Park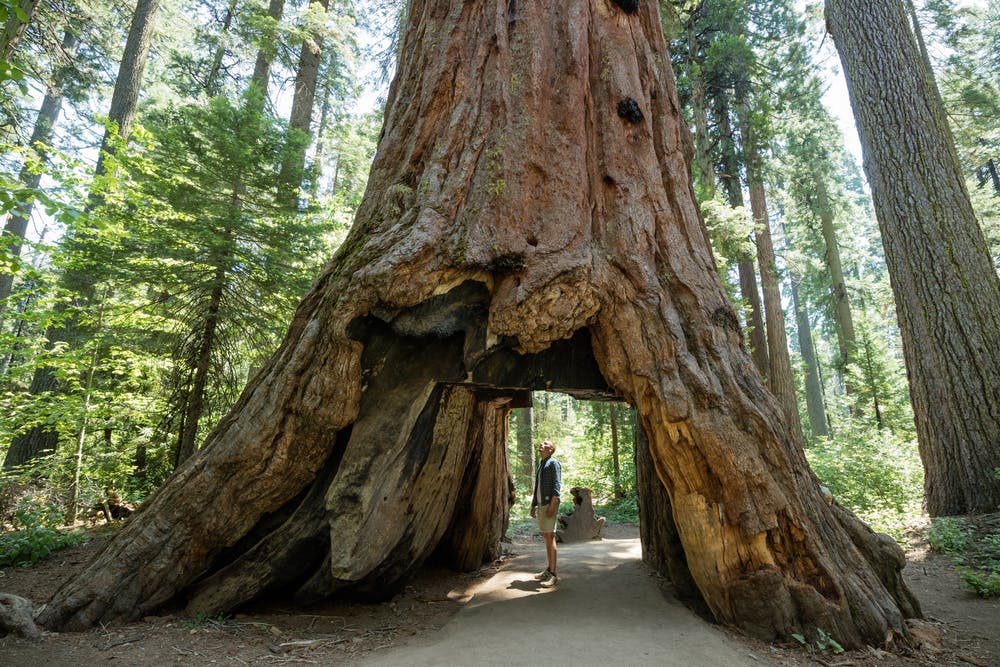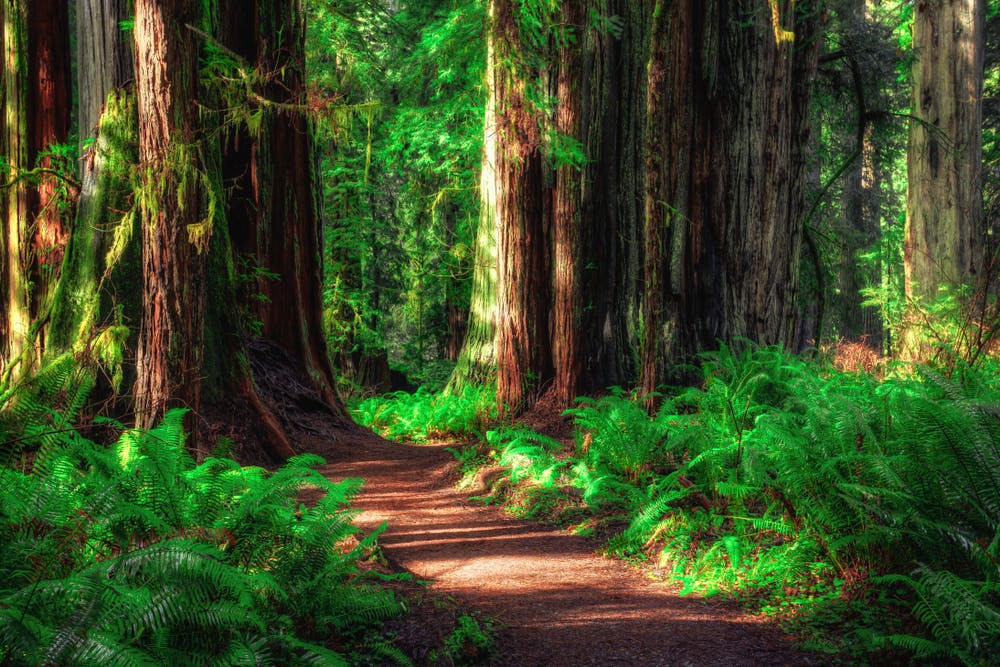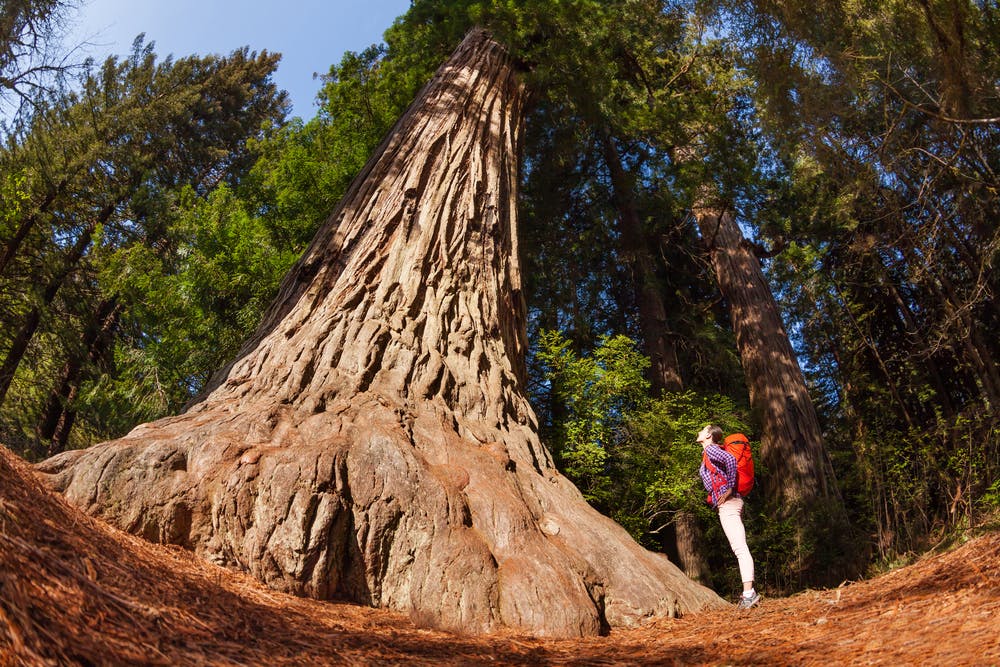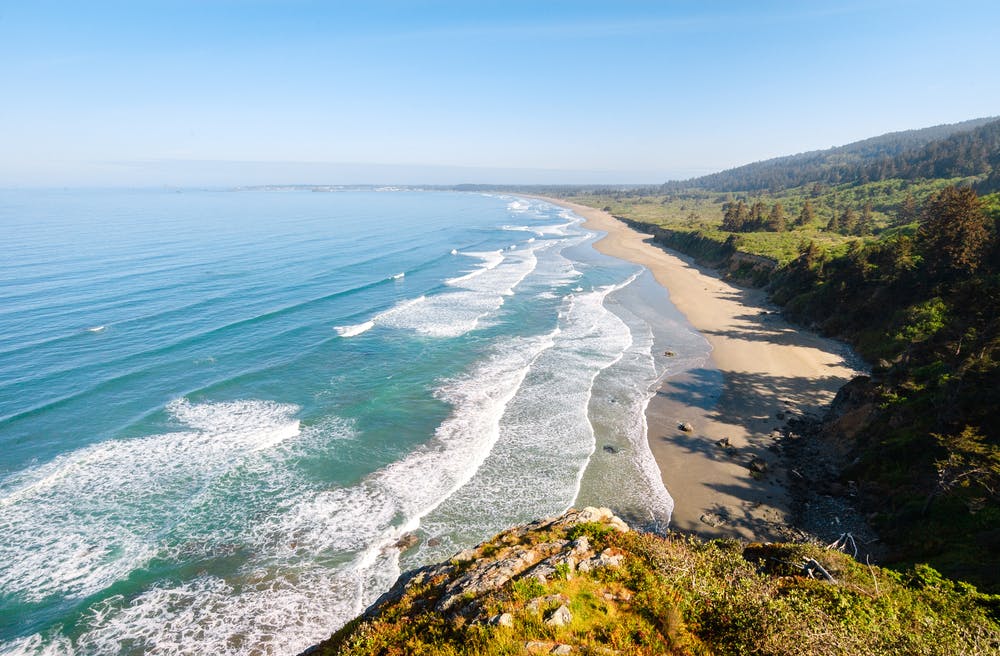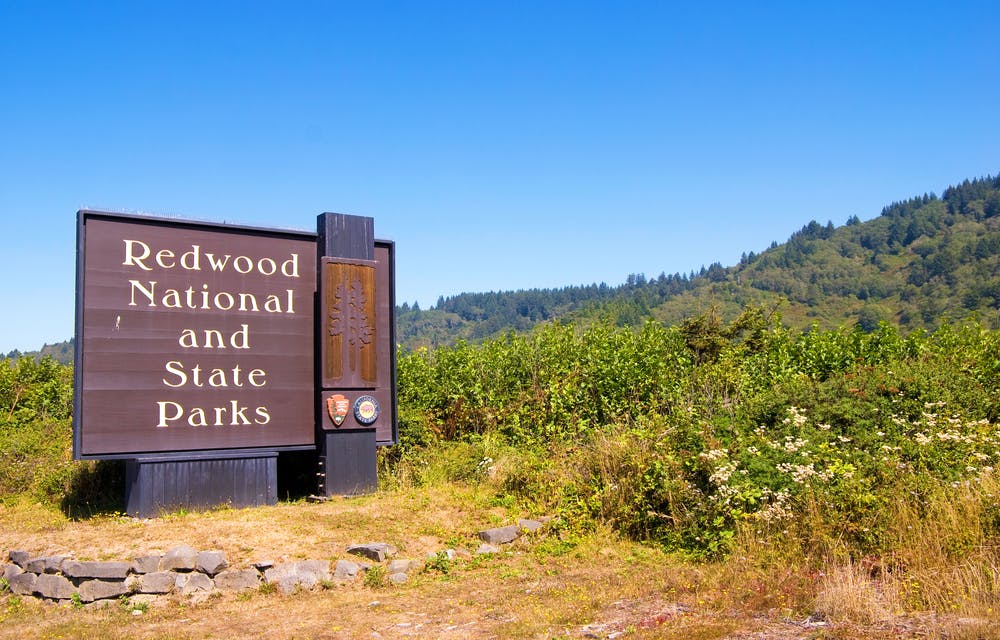 Along with the tallest trees not just in America, but on earth, Redwood National Park (as well as the string of state parks in the area) protects a unique landscape of prairies, oak forests, riverways, and coastline, as well as a variety of endangered animal species including Steller's sea lions and northern spotted owls.
With a total combined area of 139,000 acres, the park complex is home to 45% of the remaining coast redwoods in the world, which once covered more than 2,000,000 acres of the California coast. These ancient, storied groves have been held close to human hearts for far longer than western history can tally. The land today designated as Redwood National Park is the ancestral and traditional land of many different Indigenous and Native American tribes, including, but not limited to, the Yurok people. Learn about their history here.
Due to its location along the northern California coast, the weather at Redwood National Park remains relatively constant throughout the year. Visitors can expect daytime temperatures between 40-60 F, with relatively high humidity and a fair chance of rain. This is especially true from October through April, when regular storms dump the majority of the region's annual 60-80 inches of rainfall. Dress in moisture-wicking layers and shoes with non-slip soles, as the damp forest floor can be slippery.
Visitors can eat, stay, and explore in a variety of small towns in the Redwood area, including Klamath, Mckinleyville, Trinidad, Arcata, Fortuna, and Eureka. To the north of the park, the relatively large Crescent City offers more resources and attractions.
Common park activities include hiking, biking, kayaking, and exploring the unique micro-ecosystems of the area's tidepools. Visitors can also try their luck at spotting large mammals, both on shore (elk) and off the coastline (whales). The park also offers a variety of organized events, and local Native American tribes conduct traditional dance demonstrations during the summer. To see the park's full calendar of events and plan your own adventures, click here.
Weather
Spring 58-60 F
Summer 70-80 F
Fall 60-70 F
Winter 55-58 F
Nearby Cities
Crescent City, CA
Trip Planner
Use our FREE RV trip planner to begin customizing the perfect RV trip.
Continue
RV Resorts & Campsites in Redwood National Park
Redwood National Park boasts four developed campgrounds and eight designated backcountry camps. However, due to their 1940s construction, they were not built to accommodate very large motorhomes and travel trailers, and none of them offer hookups. The standard camping fee inside Redwood National Park is $35 per night, though certain discounts apply to seniors and California State Pass holders.
Campers can also choose from a variety of privately-owned RV parks and resorts in the Redwood area, many of which offer full hookups and an array of convenient amenities. Check out our list below, and also visit the official park page for more details.
Camping Inside Redwood National Park
Redwood Area Private RV Campgrounds
RV Rentals Near Redwood National Park
Nearby RV Rentals
Hit the Trails
Redwood National Park is streaked with over 200 miles of hiking trails, including a 70-mile segment of the California Coastal Trail which can be split up into shorter day hikes or taken as a longer backpacking adventure. The park's terrain includes redwood forests, of course, but also other ecosystems such as prairies and beaches, and the elevation ranges from sea level to over 3,000 feet.
Many of the park's trails are wheelchair accessible, and most are lined with compacted gravel. Below, we've listed a few of the best-loved trails in the park, but be sure to check out the official park page for full details. It's also important to check the conditions before you head out, as rainstorms and felled trees can cause trail closures.
Redwood National Park Trails in the North of the Park
Leiffer-Ellsworth Loop
Distance: 2.6 mile loop
Terrain: This easy-to-moderate loop trail allows visitors to explore a vast array of area flora, from the namesake trees to hazel and vine maple. Ample wildflowers in the springtime.
Mill Creek Horse
Distance: 7.75-mile loop
Terrain: A fairly strenuous trek through old-growth forests, featuring several stream crossings.
Simpson-Reed
Distance: 1-mile loop
Terrain: This easy and wheelchair-accessible nature trail leads visitors through a copse of 1,000-year-old redwood trees -- but don't forget to look down to spot red-legged frogs, rough-skinned newts, and other amphibians.
Redwood National Park Trails in the South of the Park
Elk Prairie
Distance: 2.8 miles
Terrain: A moderate trail with non-level grades, but no steep slopes -- and which runs through one of the most heavily populated Roosevelt elk areas in the park. Always keep your distance from wildlife.
Friendship Ridge
Distance: 3 miles
Terrain: With some slopes and switchbacks, this is a moderate trail which also offers good elk-sighting opportunities. Can be connected with the James Irvine and West Ridge Trails to extend the trip to 12.5 miles of forested, ocean-view hiking.
Revelation
Distance: 0.3 miles
Terrain: This easy, accessible trail was developed specifically with the visually-impaired in mind, and asks visitors to engage the rest of their senses with the world around them. Touch, smell, and listen to this unique northern California environment for a fuller understanding and experience.
Redwood National Park Segments of the Coastal Trail
Crescent Beach Section
Distance: 3.5 miles
Terrain: A flat, family-friendly trail along the beach that offers ample opportunity for sighting Roosevelt elk.
Klamath Section
Distance: 5.5 miles
Terrain: Ocean views from the vantage point of a Sitka spruce and red alder forest path, with lots of opportunities for tidepool exploring and whale watching along the way. Moderate difficulty, with a few steep areas.
Gold Bluffs Beach Section
Distance: 4.8 miles
Terrain: Follow the trail downhill to a secluded beach, and view 30-foot walls of ferns at Fern Canyon. Easy to moderate.
What to Do at
Redwood National Park
As easy as it is to get lost in the mystic glow of sun filtering through the redwoods, there's plenty to see, eat, and do in the surrounding towns. Whether a rainy day changes your plans or you're just in the mood for some urban adventuring, here's where to get your fix.
Restaurants
From fresh seafood to sumptuous burgers, the California coast offers options to please every palate.
Type: What better way to finish up a day of majestic forest wandering than with a glass (or three) of wine accompanied by elevated, date-night fare? If you're ready to treat yourself, head to The Larrupin' -- vegetarian options available, but we wouldn't skip the lamb chops or New Zealand venison.
Location: Trinidad
Type: This place serves mashed potatoes in savory waffle cones. Need we say more?
Location: Trinidad
Type: You can't come to northern California and not have seafood at least once. And along with fresh fish, the Seascape also serves up burgers, salads, and classic American breakfasts.
Location: Trinidad
Type: It might not look like much from the outside -- but one taste of this joint's no-frills American classics, and you're sure to be satisfied.
Location: Orick
Shopping
In the market for a new pair of hiking boots -- or just some downright delicious chocolate? Check out the following Redwood-area vendors.
Whether you'd rather hike, bike, paddle, or climb, this local outfitter's got you covered for your upcoming outdoor adventure. Open seven days a week, this place is also a great resource for maps and general information on local hiking and biking trails.
Location: Arcata and Eureka
If you're in need of fresh, local fruit and veg and you're in the area on a Saturday afternoon, the Arcata Farmers Market is more than just a great place to scratch items off your grocery list -- it's a sight to behold.
Location: Arcata
All that gorgeous redwood you're surrounded with can be put to good use. Visit this store to get your very own tables, chairs, and slabs and bring a bit of the forest into your home.
Location: Orick
Need just a little something sweet? This locally-crafted artisan chocolate will hit the spot. And since each batch iis made of only two ingredients -- hand-roast cacao beans and pure cane sugar -- you don't have to feel guilty about your indulgence.
Location: Eureka
Give a loved one at home the warm gift of a Humboldt-county-crafted sweatshirt -- or pick up a T-shirt for yourself.
Location: Arcata and Eureka
Museums
You can learn a lot just by walking through a wooded pathway… but you can learn even more by paying a visit to one of these museums and cultural centers.
Peruse stellar examples of indigenous art and artifacts at this museum located inside the Hoopa Valley Reservation, a short drive to the east of the park. Guided tours of Hoopa Valley's historic sites, including the traditional village of Takimildin, are available by appointment.
A one-stop-shop for both education and entertainment, this attraction features not only an eclectic museum, but also walking trails, a gift shop, a cafe, and more. It's even home to the world-famous Paul Bunyan and Babe the Blue Ox! In other words, you don't want to skip it.
Explore this beautifully renovated historic home and its two adjacent gardens, open to the public since 2009. The site also features Native American exhibits, including a redwood canoe carved remarkably from just one log.
Orient yourself to this magnificent landscape with a quick visit to this brand-new visitors center in Klamath.
Sightseeing
If you can tear yourself away from those gorgeous trees for a few hours, check out these easily-missed sightseeing gems in the immediate vicinity.
First lit all the way back in December 1865, this lighthouse still stands as a marker and navigation aid today. Explore those 150+ years of history by paying a visit -- but be warned: the site is only accessible at low tide.
Crescent City is home to one of the country's front running marine mammal rescue, research, and rehabilitation facilities -- and it allows visitors! See seals and sea lions on the mend and make a stop at the gift shop.
It might look like nothing more than a dilapidated old farm house… but that's the point. This park-service managed location is actually the remains of a World War II radar station, and a great piece of little-known history to add to your sightseeing roster.
How to Get to
Redwood National Park
Thanks to its northern California location, Redwood National Park is relatively easy to reach whether you're traveling by air or motor vehicle. The park is serviced by several nearby regional airports, and is also only a half-day drive from large hubs like San Francisco and Portland. For drivers, the park lies adjacent to US 101 and is accessible by a variety of scenic byways. NPS recommends visitors do not rely on their GPS systems, but instead refer to the official park page, which offers directions from a variety of orientations.
It's no surprise that we here at RVshare think RVing is the very best way to access Redwood National Park -- or any wilderness landscape, for that matter. RVing combines the convenience and ease of road-tripping with the comfort and luxury of having your own private space. And if you aren't already an RV owner, there are plenty of RV rentals to choose from.
Entering Redwood National Park
Unlike many other NPS-managed recreational properties, Redwood National Park is free to visit! However, if you're planning an extensive trip through a variety of America's national parks, a $80 America the Beautiful Pass can prove a very worthy investment.
Whether you rent a rig, fly and drive, or even just walk in on foot, we can't wait to hear more about your Redwood National Park experience. Be sure to tag us when you post those epic photos, or send details and images directly to us at memories@rvshare.com. We may even feature you on our own blog and social media channels!