Pinnacles National Park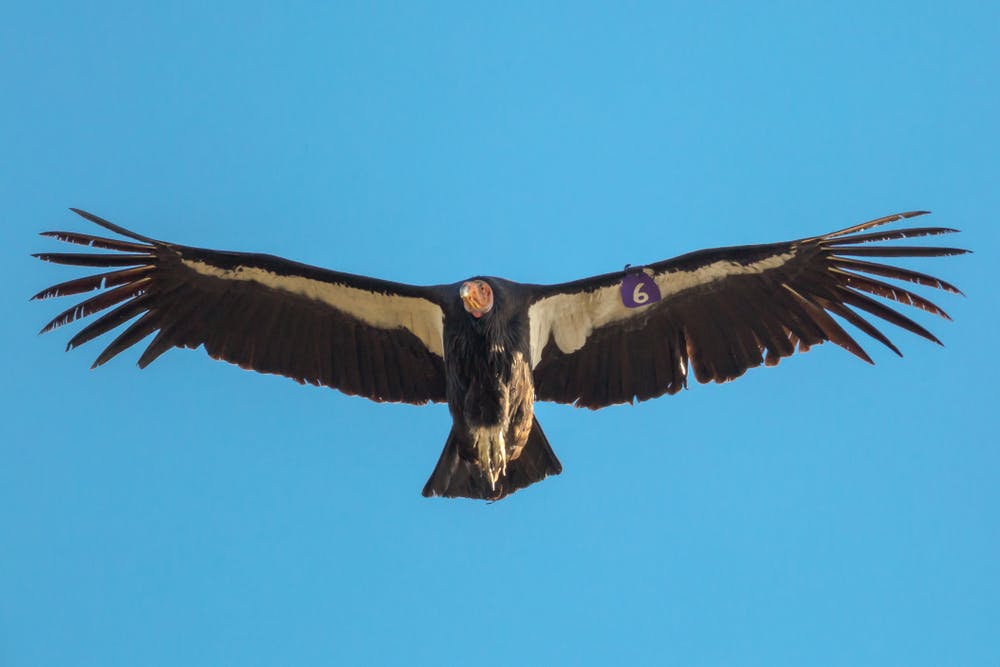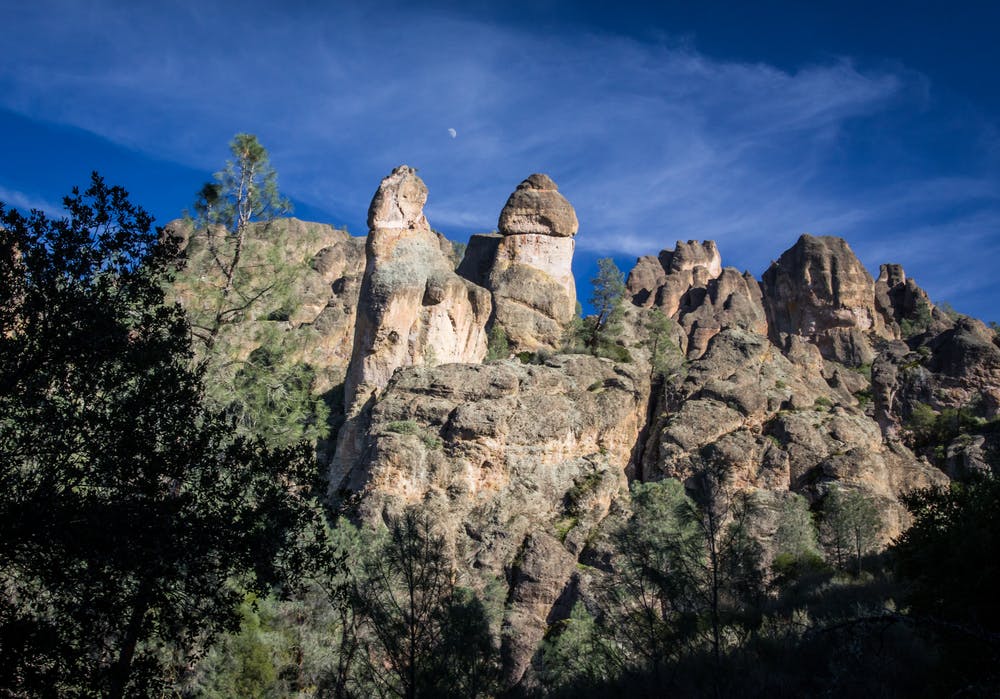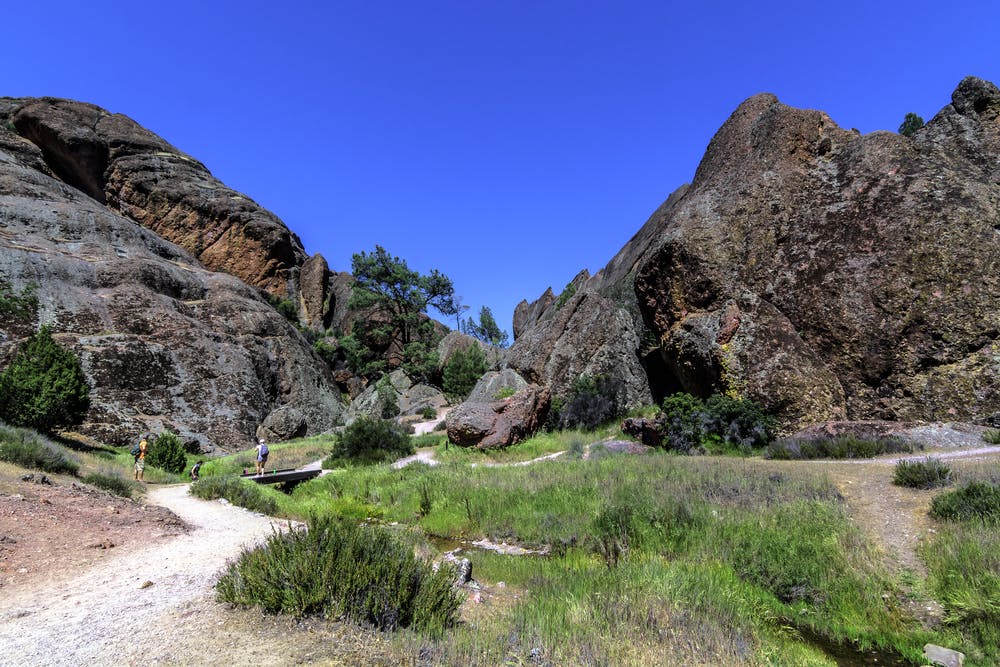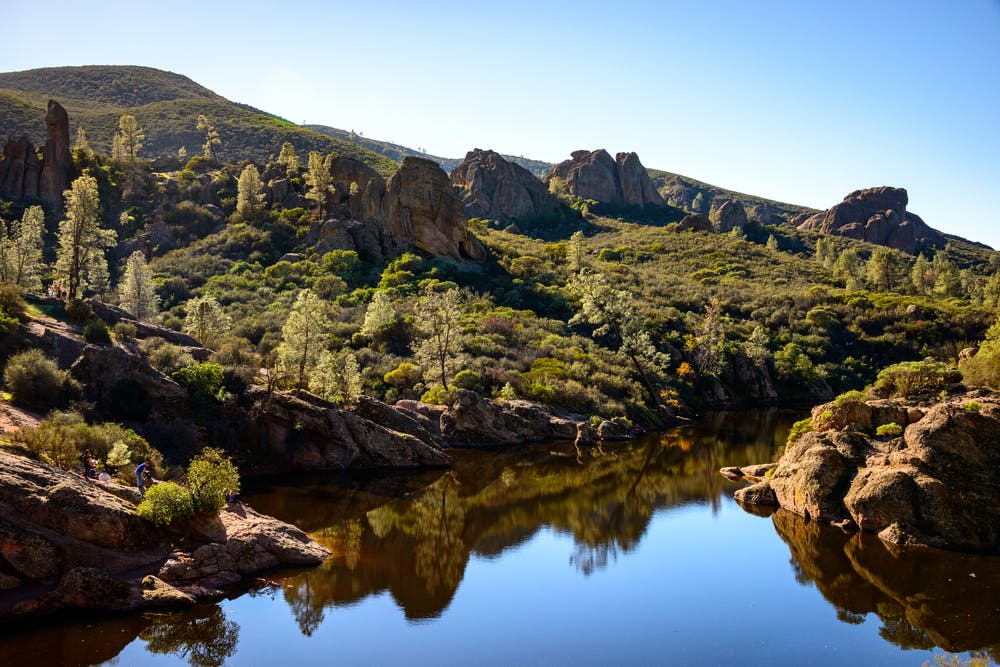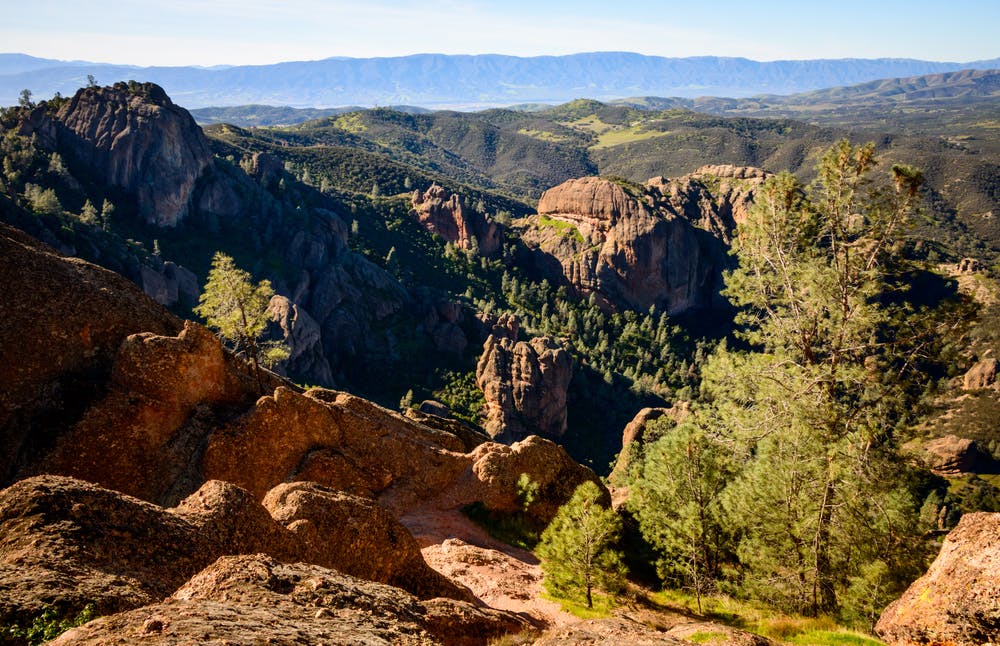 Located in central California, Pinnacles National Park is one of the state's numerous gorgeous wildlife areas. Formed through volcanic eruptions millions of years ago, the park now boasts a large number of towering pinnacles, giving the area a very interesting landscape. From grasslands and woodlands to canyon bottoms and bat caves, there are several areas to explore throughout the park, and each one is home to a large number of native animals including falcons, eagles, and condors.
But like all of our beautiful landscapes here in what we know today as the United States of America, this preserved wilderness holds human secrets as well as geological ones. This landscape is the ancient, ancestral land of the Amah Mutsun, Ohlone, Chalon, Rumsen, and other Native American tribes, whose vast history goes too often unheard by western ears. Learn about their history here.
Wondering about the weather in Pinnacles? The summers in this park tend to be hot and dry and the winters, while mild during the day can become quite chilly at night. Additionally, the winters do see a moderate amount of precipitation. Because of this, the ideal times to visit are spring and fall when temperatures tend to be incredibly pleasant.
There are several towns surrounding Pinnacles National Park, meaning finding food, shopping, and entertainment shouldn't be a problem. Soledad for instance, is the nearest town and offers most anything you might need. That said, those looking for a bigger city can easily head into San Jose which is about 70 miles north of the park.
As far as in-park activities go, there are plenty of amazing things to see and do. We highly recommend hiking through the bat caves, but be sure to bring a flashlight. Hiking in other areas, rock climbing, and bird watching are also popular activities.
Of course, the many scheduled ranger programs are also fantastic and should not be missed.
Weather
Spring 65-70 F
Summer 85-95 F
Fall 70-80 F
Winter 60 F
Nearby Cities
Soledad, CA
Trip Planner
Use our FREE RV trip planner to begin customizing the perfect RV trip.
Continue
RV Resorts & Campsites in Pinnacles National Park
Enjoy camping? If so, you're going to love camping in or near the breathtaking views at Pinnacles. When you visit, you'll have the option of staying in the public park within the park boundaries, or in a private park just outside the gates. Either way, you'll have quick and easy access to an amazing park that is filled to the brim with things to explore.
Just make sure to book ahead of time. As you can see, camping options are limited, so they do fill up!
Pinnacles National Park Public Campgrounds
Pinnacles National Park Private Campgrounds
RV Rentals Near Pinnacles National Park
Nearby RV Rentals
Hit the Trails
Pinnacles is a super cool place to take a hike. Not only do hikers get to see a variety of terrains, they also get to experience some amazing views from up high, and some dark cave hiking below. On top of all that, the various wildlife found in the park often make an appearance. This makes each hike unique and interesting and helps visitors connect with nature and understand the importance of nature preservation.
Below are our favorite Pinnacles trails. Those looking for more options can find those listed on the Pinnacles website here.
Pinnacles National Park Easy Trails
Peaks View Day Use Area to Old Pinnacles Trailhead
Distance: 3.2 miles round-trip
Terrain: Beautiful views; local wildlife
Pinnacles Overlook
Distance: 0.9 miles round-trip
Terrain: Gentle slope; beautiful views
Balconies Cave
Distance: 2.6 miles round-trip
Terrain: Includes a cave; some dark narrow spaces
Pinnacles National Park Moderate Trails
Balconies
Distance: 8.1 miles round-trip
Terrain: Some steep areas; includes caves; can be wet; loose rocks
Bear Gulch
Distance: 1.9 miles round-trip
Terrain: Some steep areas; includes caves; can be wet; loose rocks
Old Pinnacles Trail Loop
Distance: 9.5 miles round-trip
Terrain: Cliffs; gorgeous views; caves with narrow passages; can be wet
Pinnacles National Park Hard Trails
High Peaks Condor Gulch
Distance: 4.6 miles round-trip
Terrain: Steep, with ladders and tight squeezes
High Peaks
Distance: 6.3 miles round-trip
Terrain: Steep and mountainous with some wet, slippery caves
Juniper Canyon Trail to High Peaks
Distance: 3.6 miles round-trip
Terrain: Steep and narrow; rock stairs; shaded
What to Do at
Pinnacles National Park
Ready to seek out some air conditioning, delicious food, and other kinds of entertainment? Sounds like it's time to head into one of the nearby towns or cities. Lucky for you, there are plenty of those, and each one offers something unique, meaning your explorations will continue even after you leave the park.
Feeling overwhelmed by it all? Not sure which things to see, do, and eat? No worries! We've narrowed the long list down to the best of the best, making your choices easy and rewarding.
Restaurants
In many of California's cities, yummy food is the name of the game. What most people don't know is that those tasty menus extend beyond the big cities and into the surrounding areas. Therefore, even when you're way outside of town visiting Pinnacles National Park, you can rest assured there is something good to eat not too far away.
Type: Mexican
Location: Hollister
Type: American Comfort Food
Location: Hollister
Type: Burgers
Location: Greenfield
Type: Italian
Location: Gonzales
Type: Seafood
Location: Soledad
Type: Cajun
Location: San Jose
Type: Breakfast
Location: San Jose
Type: Steak
Location: San Jose
Shopping
Whether you're looking to shop for fun or out of necessarily, you're sure to find something to suit your fancy near Pinnacles. The towns of Soledad, Hollister, Greenfield, and Gonzales offer a handful of good options. Meanwhile, there are a plethora of shopping opportunities in the city of San Jose.
Gifts and souvenirs to suit every taste. Very cute and fun to visit!
Location: Hollister
Delicious sausages, perfect for grilling up at your campsite and eating around the fire.
Location: Greenfield
A wonderful place to pick up fresh fruits and veggies. The atmosphere is fun and almost festival-like, and the people are beyond friendly.
Location: Soledad
Pick up groceries and other essentials in this handy nearby grocery shop.
Location: Soledad
If western apparel is your thing, this is your store. Head into town to pick up a new pair of boots or a hat.
Location: Soledad
Museums
Exploring local museums is a great pastime for those rainy days. It's also an excellent way to get out of the heat and cool off a bit. Best of all, by choosing a museum as your source of entertainment, you'll likely learn something new.
San Benito County Historical Society has both a museum and a historical park. Both offer a variety of exhibits which are excellent for learning about the history of the area. Check the hours before you visit as they can be limited.
Anyone with an interest in planes and helicopters will love this little gem. Despite its small size, Yanks Air Museum has a nice collection of flying machines. Additionally, the museum hosts a number of special events throughout the year.
An open-air history museum with such buildings as an old schoolhouse, train depot, and blacksmith shop, Monterey County Agricultural & Rural Life Museum is a great place to explore and learn. This is an especially fun attraction for those with kids, but can be enjoyed by people of all ages.
The perfect place to learn about the history and wildlife of Pinnacles National Park, Bear Gulch Nature Center is a must-see for all park visitors. It is small however, and will only take a half-hour to see in full
Sightseeing
Of course, there are plenty of other amazing things to see and do in the area surrounding Pinnacles National Park. If you're looking to get out and about for the day try one of these awesome sightseeing locations:
Mission Soledad is a beautiful reconstructed mission that was first in use in the late 18th century. It's open daily with the exception of holidays, and guests are welcome to take a self-guided tour.
The area surrounding Pinnacles is full of amazing vineyards and wineries. Hahn Estate Winery is one of the favorites, and if you must choose only one, we recommend this one. That said, it's worth checking out a few if you have the time.
Laguna Mountain Recreation Area is owned and operated by the Bureau of Land Management. The facilities here are very minimal, but the views are fantastic, making this a great place for a picnic with the family.
If you're looking for lovely views and a nice history lesson all rolled into one, San Juan Bautista State Historic Park is your place. This awesome state park uses historic buildings to present history in a way that is memorable for the whole family.
Visitors who want to ride off-road vehicles such as 4x4s and ATVs will be pleased to find Hollister Hills State Vehicular Recreation Area. This park offers plenty of opportunities for riding these recreational vehicles.
How to Get to
Pinnacles National Park
Visitors who wish to get to Pinnacles National Park by car will need to make their way to Highway 146. That said, there are numerous ways to get to this highway depending on where you are coming from and whether you wish to use the east entrance or the west entrance. We recommend checking out this page for specific information. Be sure write these directions down and take a road map along, as GPS is unreliable in the Pinnacle National Park area.
Of course, some people must fly into the area first. These individuals should plan to fly into Monterey Regional Airport if flying domestically, or Norman Y. Mineta San Jose International Airport if flying internationally. That said, both are over an hour away from the park by car, so plan accordingly.
Wondering where to stay during your trip to Pinnacles? As mentioned before, camping is an excellent option, and for those who like to camp in style, an RV is ideal. Driving an RV into the park allows you to travel at your own pace, and staying in an RV means begin comfortable no matter where you end up parking. Those who don't own an RV can always rent one, meaning anyone can enjoy the benefits of camping during a trip to Pinnacles.
Campers who plan to stay in the RV sites in the park should know that 30-amp electric hookups are provided. 50-amp hook ups are not available however, meaning appropriate adapters should be packed. Additionally, there are no water or sewer hookups at the RV sites. There are water fill-up stations, coin-operated showers, restrooms, and a dump station.
Entering Pinnacles National Park
There are a few different options when it comes to paying to enter the park. The first option is to pay a single-visit fee which allows guests to come and go for up to 7 days.
These fees are as follows:
Private Vehicle : $25
Private, non-commercial vehicles (15 passenger capacity or less) and all occupants.
Motorcycle : $20
One or two passengers on a private, non-commercial motorcycle.
Per Person : $12
One individual with no car (bicyclist, hiker, pedestrian). Youth 15 and under are admitted for free.
Other options include purchasing a Pinnacles annual pass for $50 or an interagency annual pass which allows access to numerous parks for $80. There are also special annual passes available to seniors and those with disabilities. Info on all of those passes can be found here.
Here at RVShare we are all about getting outdoors and having a blast with family and friends. That's why we are so excited for your trip to Pinnacles National Park! In fact, we are so excited that we want to hear all about it.
Please share photos and details about your trip by sending them to memories@rvshare.com or tag us on social media. Who knows? You might even be featured on our social media channels!