Petrified Forest National Park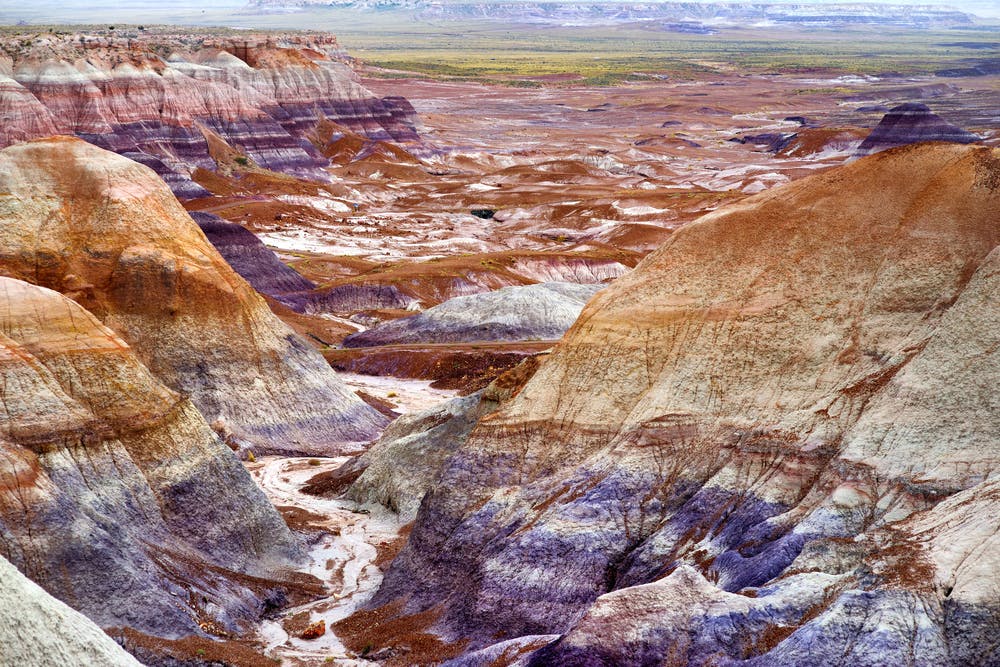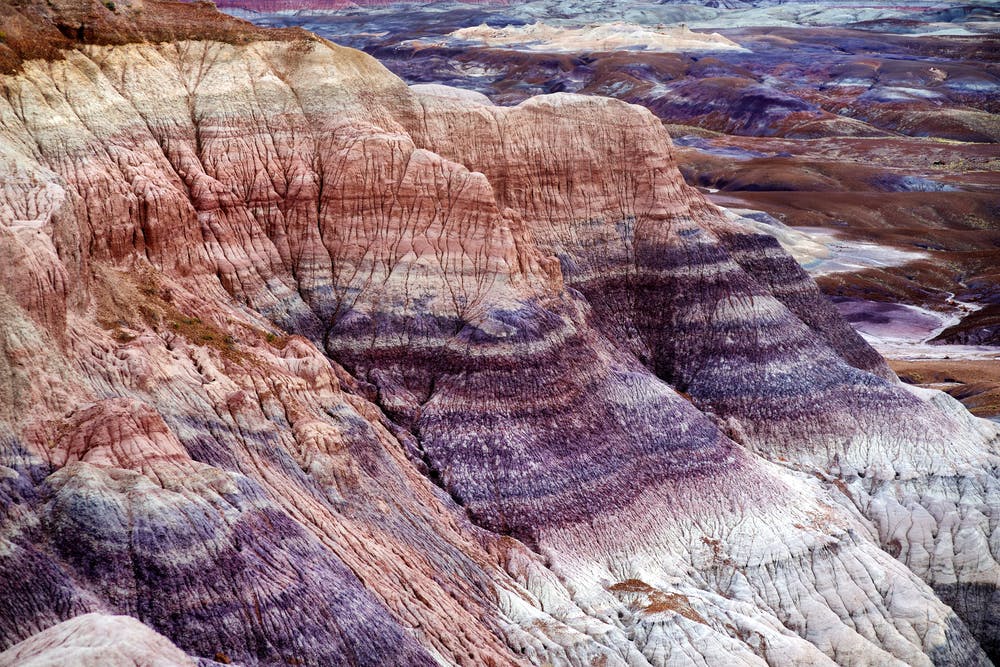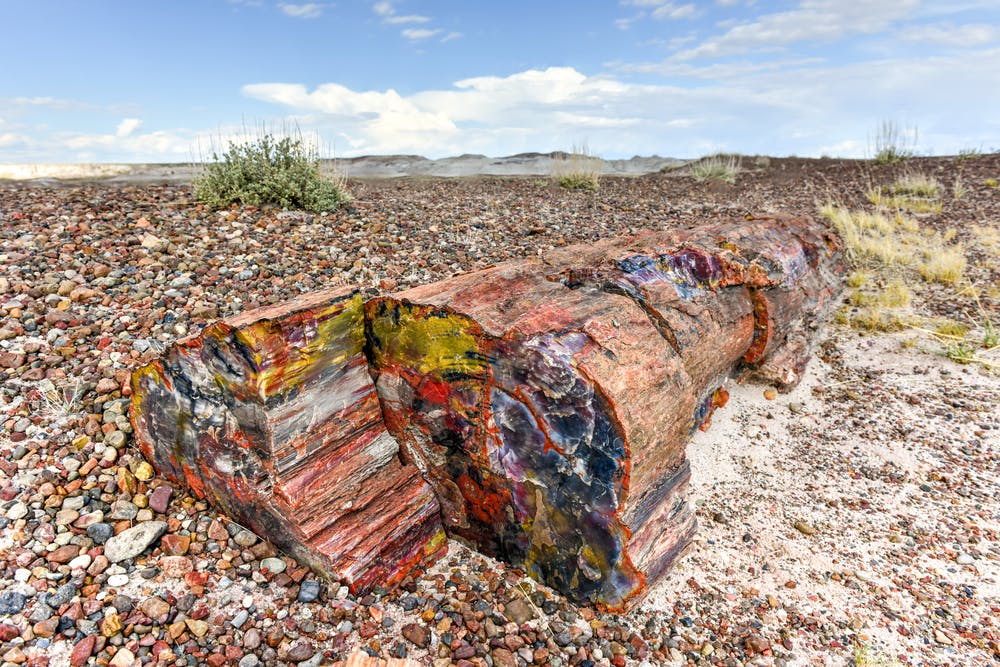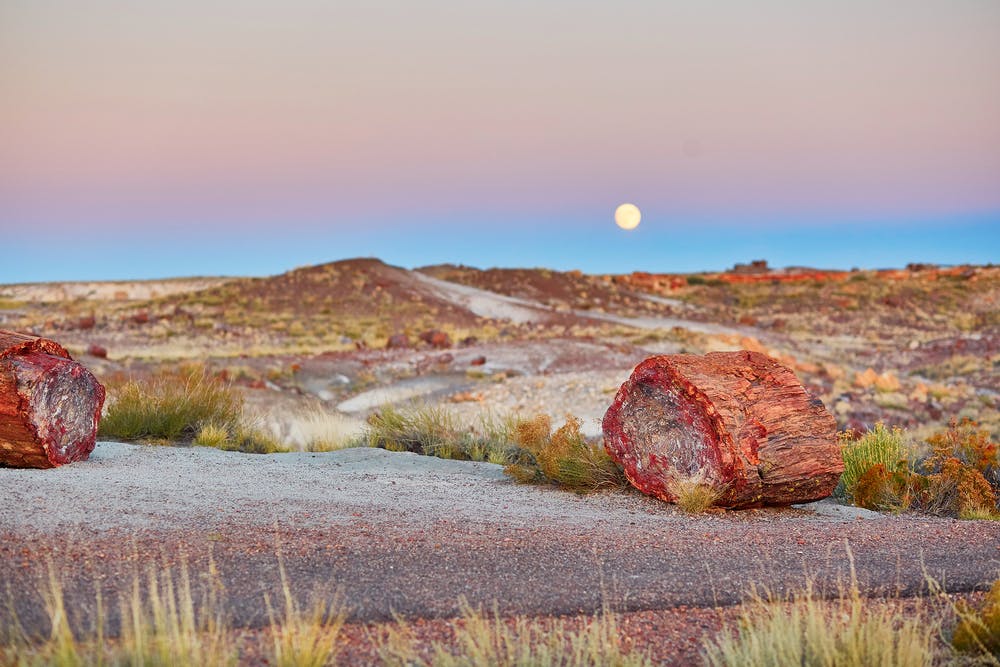 >

Petrified Forest National Park
It may not be quite as famous as the Grand Canyon, but no visit to northern Arizona is complete without a trip to Petrified Forest National Park. Covering over 220 square miles of Technicolor desert, there's way more to this park than its namesake fossilized wood. Petrified Forest is also home to numerous paleontological exhibits, petroglyphs, and a wide range of living flora and fauna, including coyotes, bobcats, pronghorns, and over 200 species of birds.
The park's landscape has been inhabited by humans for at least 8,000 years, and more than 600 archeological sites within the park's boundaries reveal just a few of our ancient ancestors' secrets. Archeological evidence and oral tradition both point to an expansive human history in the area now known as Petrified Forest National Park, which is the traditional homestead of the Zuni, Pueblo, Hopi Tutskwa, and Diné Bikéyah peoples. Learn about their often untold story here.
Petrified Forest National Park is situated in the northern reaches of Arizona's high desert climate, which means its temperatures vary widely -- both by season and sometimes within a single day. July highs can easily reach over 100 F, while the winter sees temperatures below freezing and occasional snow storms. Because the weather at the park is so variable, it's important to dress in layers and bring waterproof clothing. Check the park's weather page and local forecasts for full and up-to-date details.
The park is located about midway between Albuquerque and Flagstaff, and is easily reached via I-40. Communities in the park's direct vicinity include the small towns of Sanders, Joseph City, and Holbrook. Winslow, Arizona -- of Eagles song fame -- is about an hour west of the park.
Visitors come to Petrified Forest National Park to enjoy this unique and surreal landscape, a surprising splash of color in the desert's depths. Along with hiking, backpacking, and horseback riding, the Park Service also hosts a variety of ranger-led events, including guided tours and cultural demonstrations. For full details on current events, check the park's official calendar before your trip.
Weather
Spring 65-75 F
Summer 90-95 F
Fall 75-80 F
Winter 45-55 F
Nearby Cities
Holbrook, AZ
Trip Planner
Use our FREE RV trip planner to begin customizing the perfect RV trip.
Continue
RV Resorts & Campsites in Petrified Forest National Park
There are no developed campgrounds in Petrified Forest National Park, and overnight parking is not allowed. However, RVers can choose from a variety of both public and private camping options in the nearby area.
Public RV Camping
Homolovi State Park
McHood Park
Private RV Campgrounds
Holbrook/Petrified Forest KOA
OK RV Park
Sun Valley RV Resort
RV Rentals Near Petrified Forest National Park
Nearby RV Rentals
Hit the Trails
The best way to experience Petrified Forest National Park is on foot -- and there are plenty of different ways to do it. If a short and relatively easy nature stroll is what you're after, the park offers a wide variety of designated trails, often with interpretive signage and guidance. Alternatively, if you want to take on a multi-day backcountry camping adventure, you can do that, too -- create your own way "off the beaten path" to discover untold treasures.
Below, we've listed a few of the demarcated trails in the park, but you can check out the park's hiking information page for more details and guidelines. No matter which trail you take (or even if you go off into the unmarked wilderness), do not pick up or take home petrified wood. Doing so is illegal… and also takes away from the park's beauty for future visitors.
Trails
Blue Mesa
Distance: 1-mile lollipop loop
Terrain: This short and easy hike meanders through colorful badlands formations and lots of petrified wood.
Crystal Forest
Distance: 0.75-mile loop
Terrain: Take a peek into the petrified wood that litters this trail to see the crystal deposits it's named for. Short and easy trail starting at the Crystal Forest Viewpoint.
Giant Logs
Distance: 0.4-mile loop
Terrain: See some of the largest, oldest, and most colorful logs in the park along this easy half-mile stroll. The trail is flat and paved but features several sets of stairs.
Painted Desert Rim
Distance: 1 mile
Terrain: See sweeping expanses of the Painted Desert along this easy out-and-back trail. Good opportunity for spotting local plants and wildlife.
Puerco Pueblo
Distance: 0.3-mile loop
Terrain: This short, paved, accessible trail takes visitors into the remains of a 600-year-old Puebloan ruin, and features petroglyphs at its southern end.
What to Do at
Petrified Forest National Park
After you've had your fill of Petrified Forest's unique fossilized wood deposits and rainbow-painted sand dunes, get your fill of delicious Mexican food -- or whatever your appetite longs for.
From tasty eats to informative cultural exhibits, here's what to see and do in northeastern Arizona.
Restaurants
Hiking works up an appetite… and good thing, too. There's so many yummy options in the area, you'll want to make sure you've got lots of room to try them!
Aliberto's Mexican
The southwest is basically synonymous with great Mexican food -- so if you're in the mood for some spice, head to this locally-loved chain.
Location: Holbrook
Mandarin Beauty Chinese Restaurant
Yes, you can get authentic Chinese eats in the desert! This casual joint serves up all your favorites, and maybe one or two new-to-you items, too.
Location: Holbrook
Painted Desert Diner
Looking for a quick and easy lunch or early dinner that doesn't require you to leave the park? The Painted Desert Diner is a convenient, on-site solution serving hot dogs, hamburgers, veggie wraps, and more.
Location: Inside the park
RelicRoad Brewing Company
There's nothing like an ice-cold brew after a hot desert day, and if you want to upgrade from that Bud Light in your cooler, this Winslow brewery is the answer. Along with its selection of delicious, handcrafted beers, RelicRoad also serves hearty pub favorites.
Location: Winslow
The Turquoise Room
Do date night right at this upscale southwestern restaurant, located inside Winslow's La Posada hotel. Along with its heritage-inspired dinner menu and sprawling wine list, The Turquoise Room also serves breakfast, lunch, and cocktails.
Location: Winslow
Shopping
Traveling means one thing: you probably forgot something. (Hey, it happens to all of us.)
And even if you're a packer extraordinaire, you'll eventually run out of toothpaste. Here's where to head when you need a quick restock -- or a souvenir to take home for grandma.
Holbrook Plaza Shopping Center
Located in northern Holbrook right where Route 66 runs into the city, this bustling plaza has all the basic mall resources you could hope for.
Location: Holbrook
Painted Desert Oasis Gift Shop
You're not allowed to pick up the petrified wood you see in the park… but you can buy a piece of it here at this on-site gift shop, which sells pieces legally sourced from private lands.
Location: Inside the park
Rainbow Forest Museum Gift Shop
This in-park gift shop offers petrified wood and lots of other giftable goodies -- whether it's a "gift" for yourself or a present for someone you left behind at home.
Location: Inside the park
Safeway
When it's time for a grocery run, this western chain is the go-to for fresh, yet affordable, meat and produce.
Location: Holbrook
Tribal Gift and Rock Shop
Petrified wood and other area minerals line the shelves at this longstanding gift shop, which has been in business for over a quarter of a century.
Location: Holbrook
Museums
Want to learn even more about this surreally beautiful landscape -- and the storied past that made it into what it is today? The following museums and cultural exhibits give you and your family a window into the way things were years ago.
Navajo County Historical Society
From Native Americans to western settlers to today's park visitors, this part of the world has been a hotspot for humans since time out of mind. Learn all about the people who walked these lands before you at this local historical society's museum.
Location: Holbrook
Old Trails Museum
Collections of artifacts ranging from dishware to documents characterize this Winslow museum, which is dedicated to preserving the area's unique historical perspective and passing it on to future generations.
Location: Winslow
Rainbow Forest Museum
Originally built back in 1931 as the park's headquarters, the Rainbow Forest Museum stands as a reminder of the people who took the time and effort to preserve these lands for you to experience today.
Location: Inside the park
Sightseeing
Don't get us wrong -- simply meandering through the many trails of Petrified Forest could keep you busy for days. But while you're in the area, there are a few other gems you might not want to miss out on.
Agate House
Located inside the park, this partially reconstructed Ancestral Puebloan building is crafted entirely out of petrified wood. Featuring eight rooms, the structure has been dated back to approximately 900-1200 CE.
Monument Valley Scenic Drive
RVing is all about the journey -- and when it comes to scenic drives, Arizona's Monument Valley cruise is hard to beat. Whether or not you have time to stop in the namesake park, take a couple of hours to meander down this iconic American byway.
"Standin' on the Corner" Park
If you've had that Eagles song stuck in your head since you first saw Winslow, Arizona on the map, you've got to stop at this quirky little park, where local Winslowans celebrate their claim to fame.
How to Get to
Petrified Forest National Park
Although it's in quite a remote location, Petrified Forest National Park is easy to access thanks to its proximity to I40, also known as historic Route 66. The highway runs directly adjacent to the park, and exits are well-marked with directive signage.
The nearest airports to Petrified Forest National Park are in Flagstaff, Arizona and Gallup, New Mexico; large hubs are available in Phoenix and Albuquerque. For those with access to private planes, there is also a small airstrip in Holbrook.
Renting an RV is an ideal way to experience America's desert southwest, including Petrified Forest National Park. A motorhome or travel trailer gives you the best combination of road-trip flexibility and private-bungalow comfort and convenience. You can easily stitch together an epic, winding tour of the nation's parks without ever having to repack your suitcase (or grimace through a night in a so-so hotel room).
Entering Petrified Forest National Park
The following prices cover entry to the fee area of Petrified Forest National Park, and buy you unlimited access for seven consecutive days. If you're a frequent visitor or are planning to visit multiple parks this year, you might also consider purchasing the $80 America the Beautiful annual pass, which gets you entry into more than 2,000 national federal recreational areas.
Private Vehicle : $20
Private, non-commercial vehicles (15 passenger capacity or less) and all occupants.
Motorcycle : $15
One or two passengers on a private, non-commercial motorcycle.
Per Person : $10
One individual with no car (bicyclist, hiker, pedestrian). Youth 15 and under are admitted for free.
Whether you fly, drive, or even walk in, we're standing by to see all your gorgeous photos and hear your travel stories! For a chance to have your pictures featured on our social media channels or blog, tag us in your posts -- or send details to us directly at memories@rvshare.com.
Happy camping!