Great Sand Dunes National Park
Colorado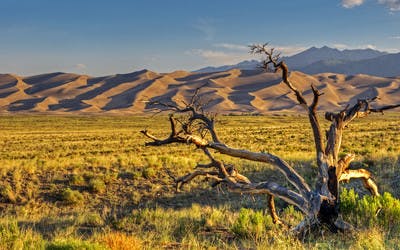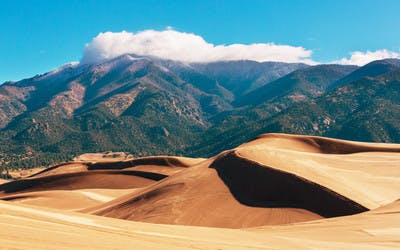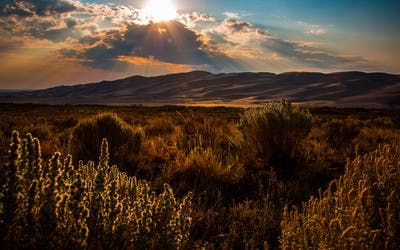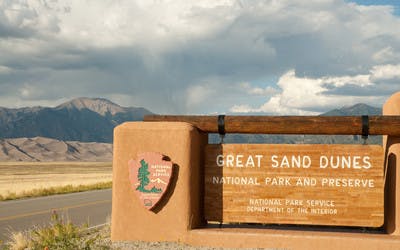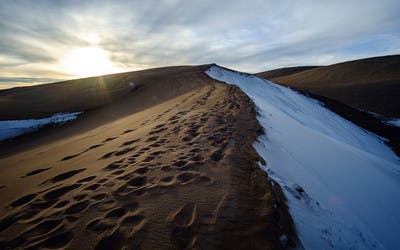 The Great Sand Dunes National Park and Preserve is located in south-central Colorado. Its 100,000+ acres include a 30-square-mile field of the tallest sand dunes in North America, some of which reach as much as 750 feet in height. The preserve offers a variety of other landscapes to experience as well, such as grasslands, wetlands, conifer forests, alpine lakes, and tundra. You can also splash, swim, and cool off in the park's seasonal Medano Creek.
The weather at Great Sand Dunes National Park and Preserve varies considerably with the seasons, and is affected by the area's significant altitude, which ranges from 8,000 to over 11,000 feet. In the summertime, daytime temperatures often hover between 70-80F, but sand surface temperatures can reach a scading 150F on summer afternoons. Because of the altitude, these high daytime temperatures can drop into the 40s and 50s in the evening, so layered clothing is recommended. In spring and fall, daytime temperatures are closer to 50-70F, and nights can go down to the 20s. (Spring can also bring high winds in the afternoons.)
The park is open all year round, so you can also visit in winter -- but be prepared! Daytime highs are usually in the teens-30s, and lows can dip well below 0. Always check the forecast before you head to the park, and make sure you have the proper clothing and gear to enjoy yourself safely.
Great Sand Dunes is situated in quite a remote area, but there are a variety of small towns in the vicinity to explore. The town of Mosca is the closest at 23 miles southeast of the Visitors Center, and offers basic facilities like a gas station, restaurant, post office, and motel. Ten miles further along at the junction of US 285 and US 160, you'll find the village of Alamosa, the county seat and most populous city in the area with just shy of 10,000 inhabitants. You can also reach the relatively large city of Pueblo, Colorado within a two-hour drive of the park.
As far as activities are concerned, the park is perhaps best known for its unique opportunity to slide down its epic dunes on sleds and sandboards. However, there's a lot more to Great Sand Dunes than summery sleigh rides. Although there are no designated trails within the 30-square mile sand dune field, visitors are welcome to hike and backpack anywhere in it they wish; there are also ample forested and trails to explore in the surrounding preserve area. Great Sand Dunes' remote location makes it an excellent spot for stargazing, and the park offers some dedicated night programs to orient guests to the depths of the night sky. The rangers also offer a variety of free daytime interpretive and educational events; check the official park calendar for full details.
Weather
Spring 50-70 F
Summer 70-80 F
Fall 50-70 F
Winter 30 F
Nearby Cities
Alamosa, CO
Trip Planner
Use our FREE RV trip planner to begin customizing the perfect RV trip.
Continue
RV Resorts & Campsites in Great Sand Dunes National Park
Great Sand Dunes National Park and Preserve only offers one on-site campground with RV-friendly spots -- and even these are limited in number and don't offer hookups.
However, there are also a number of other area campgrounds to choose from, both public and private.
On-Site RV-Friendly Campgrounds at Great Sand Dunes
RV-Friendly Campgrounds in the Great Sand Dunes Area
RV Rentals Near Great Sand Dunes National Park
Nearby RV Rentals
Hit the Trails
While the sand dunes themselves are free to explore at will, there are a variety of designated hiking trails within the Great Sand Dunes National Park and Preserve property. As always, be sure to grab your sunscreen and an ample supply of water before you head out!
Medano Lake
Distance: 7.9 miles
Terrain: A moderate-to-difficult trail which leads to a breathtaking alpine lake (and a decent fishing opportunity).
Montville Nature
Distance: 0.5 mile loop
Terrain: This short, easy trail includes marked points of interest and stunning views of the dunes at a distance.
Mosca Pass
Distance: 6.4 miles
Terrain: Follow a creek to the summit of one of the lower peaks in the Sangre de Cristo mountain range. Moderate to difficult; allow 4-5 hours for round trip.
Music Pass
Distance: 2.5 miles
Terrain: A moderate and relatively short hike which offers some of the best views in San Luis Valley. Trail sees about 700 feet of elevation gain.
South Zapata Lake
Distance: 8.8 miles
Terrain: A moderate-to-difficult trail with over 3,000 feet of elevation gain -- but which rewards explorers with waterfalls, old miner's cabins, and a stunning alpine lake view.
What to Do at
Great Sand Dunes National Park
Don't get us wrong, there's plenty to see inside the park proper. I mean, we're talking about over 100,000 acres of preserved land to explore! But even the woodsiest camper needs to eat every once in a while. (And hey, you may just want to catch a show or hit a museum while you're at it.) Here's what to see, do, and eat in the Great Sand Dunes National Park area.
Restaurants
Mealtime is the best time, especially in southern Colorado, where the chiles are abundant and the Mexican influence is strong. Hope you like it hot -- but if not, don't worry. There are plenty of different cuisine options available.
Italian makes everyone happy -- and this joint serves it all up fresh and affordable. Pizza, pasta, salad and more. Don't forget the garlic bread!
Type: Italian
Location: Alamosa
Classic Mexican eats with all the fixings at affordable prices. Choose from menu items or a generous buffet.
Type: Mexican
Location: Alamosa
Who doesn't love an old-fashioned chocolate chip cookie? Well, when it's time for dessert after a day of exploring, you can head to the original source. Get your chocolate chipper fresh out of the oven, or upgrade by building your own ice cream sandwich.
Type: Cafe
Location: Alamosa
Looking for a lunch spot? Try this local favorite offering an array of burgers alongside Tex-Mex delights. Try the roasted jalapeno spinach dip!
Type: Tex-Mex
Location: Alamosa
Shopping
Maybe your trusty hiking boots finally gave out -- or maybe you're ready for a new kind of outdoor adventure. Or maybe you just want a new pair of jeans. Whether it's gear or goodies you're after, you can find what you're looking for in these southern Colorado shops.
Tired of wearing hiking duds at all hours? This local shop offers both new and gently used women's clothing at surprisingly low prices.
Location: Alamosa
Whether you're looking for some literature to help you learn more about the landscape or you just need a stamp in your National Parks Passport, the official park bookstore can help you out.
Location: Visitors Center
Camping, skiing, biking, climbing, snowboarding… whatever your preferred way to engage with the great outdoors may be, this mom-and-pop outfitter's got you covered. Service, rentals and sales.
Location: Alamosa
With antiques, candles, clothing, bath products, and more, Treasure Alley is the perfect one-stop gift shop -- whether you're gift shopping for yourself or for others.
Location: Alamosa
Museums
Want to learn more about the wild, wild west? These San Luis Valley museums are your opportunity.
Once under the command of the legendary Kit Carson, ths fortress housed over 100 men who played a critical role in the early settlement history of the San Luis Valley. Today, visitors can explore original adobe buildings onsite as well as Infantry and cavalry barracks exhibits.
Located on the sprawling, 24-acre campus of the former Colorado Soldiers' and Sailors' Home, this museum pays respect to Colorado's storied history of warriors. Exhibits include memorabilia from veterans who lived onsite as well as hospital and barracks artifacts.
Visit this museum in downtown Alamosa to learn more about early ranch and farm life. You'll also view Native American artifacts, military regalia and railroading relics. Adults $2, children and students $1. Closed Sunday and Monday.
Go back in time to the days of the boomtown at the Silver Cliff Museum, located in Silver Cliff, Colorado. Visitors will learn about Colorado's mining history, as well as discovering more about Custer County. Free admission!
It's not just about the way we were -- it's about how we got there! If you're intrigued by trains, early automobiles and horse-drawn covered wagons, visit this Monte Vista location to get all the details. Admission is free!
Sightseeing
While the dunes alone could keep you busy for a week or longer, there's a lot more to see outside the park boundaries
If you happen to be visiting Great Sand Dunes in June, don't miss the opportunity to experience one of San Luis Valley's longest-standing traditions. The Alamosa Round-up Rodeo has been going strong for almost four decades, and features six full days of action-packed excitement. Witness heart-thumping events like bull-riding, steer-wrestling, barrel racing, and even a demolition derby. Adult ticket prices range from $8-$15; kids 5-12 $8, kids under 5 get in free.
National Wildlife Refuges
The San Luis Valley is home to several wildlife refuges, thanks to its unique system of high-elevation wetlands. View unusual migratory birds as well as elk and mule deer at the Alamosa, Baca, or Monte Vista National Wildlife Refuges. There are also a variety of other preserved wetlands areas in the vicinity; check out this page for full details.
What better way to see the Colorado countryside than by rail? (That's how we did it in the old days, after all.) Along with dramatic views along its San Luis Valley route, Alamosa's Rio Grande Scenic Railroad also puts on concerts and special events during the summer.
Just over a dozen miles from the Visitors Center, you can take this short hike on BLM-managed land to view one of the most iconic waterfalls in the area -- as well as a panorama of the dunes. Do hike with caution, however, as the trail proceeds over wet rock into a crevasse, and conditions can be quite slippery.
How to Get to
Great Sand Dunes National Park
Although Great Sand Dunes National Park and Preserve is located in a remote area, modern technology makes it easily accessible no matter where you're coming from.
By Car
Most visitors will take I25 to Walsenburg, and from there head west on US160 and then north on State Highway 150. However, it's important not to rely on your GPS for remote Rocky Mountain driving, as these systems often lead travelers astray. Click here for more detailed directions from a variety of other locations.
By plane
Commercial airlines do service the small Alamosa airport, only 38 miles from park boundaries; you can also fly into the relatively nearby cities of Denver, Colorado Springs, or Albuquerque.
Entering Great Sand Dunes National Park
The fee to enter Great Sand Dunes National Park and Preserve is $20 for a non-commercial vehicle and its occupants, which gets you a 7-day pass to the park. However, fees are only collected when the entrance station is open, which means the park is free to enter at all other times. You may also obtain a $15 pass if you enter the park by motorcycle, or you may choose to upgrade to an annual pass for $40 (for Great Sand Dunes only) or $80 (for all NPS properties). For up-to-date details on park fees, visit this page.
No matter what park you're visiting, an RV is the perfect way to combine the flexibility of camping with the comforts of home. And if you don't already have a rig of your own, no worries; RV rentals are available in every corner of the country.
And whether it's your first RV trip or you're a long-time camping veteran, we can't wait to learn more about your trip to Great Sand Dunes National Park! Share your photos and stories with us  at memories@rvshare.com, or tag us with your epic adventure tales on social media. Who knows? We might just feature you on the RVshare blog or social channels. Enjoy your trip!