Grand Teton National Park
Wyoming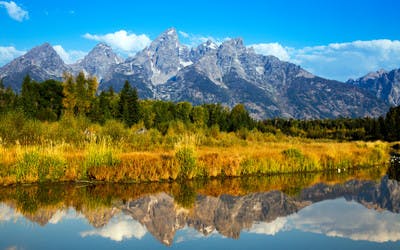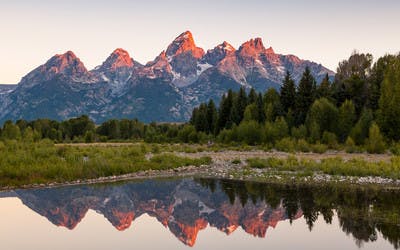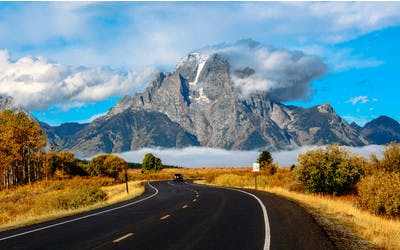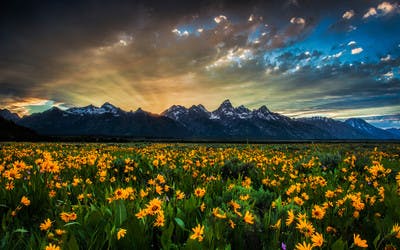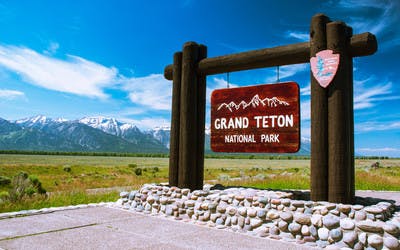 Grand Teton National Park
in Wyoming is sometimes overshadowed by the more famous park in the state - Yellowstone. However, Grand Teton offers breathtaking vistas, crystal blue mountain lakes, and abundant wildlife and is worth a visit all on its own. The park also shares the rich history and culture of those who lived there in the past, and the struggle they faced in making a life in the mountains.
As in many mountain regions, weather at Grand Teton is quickly-changing. Plan on packing multiple layers so you're ready for everything from warm sun to thunderstorms to even an occasional snow. Spring in the mountains usually means mild days and cold nights, with a good chance of snow through May. Summer days are warm with cooler nights and frequent afternoon thunderstorms. Fall brings sunny days and cold nights, with a chance of snow as the year gets later, and winter can often mean sunny days with freezing cold nights. If you're traveling through the park in winter, you'll want four- or all-wheel drive or all-weather tires, and roads may be closed.
The most well-known town outside the park is the vacation mecca of Jackson Hole. You can find everything from skiing to dude ranch experiences to float trip tours there - or you can indulge in some fine dining and fancy shopping if you want to treat yourself.
Inside the park, there are plenty of scheduled events as well. Most take place during the summer months, but the park is open all year. You can find the entire schedule here to help you plan your trip. There is also plenty to do on your own, including scenic drives, hiking, backcountry camping, horseback riding, and mountaineering.
Weather
Spring 40-50 F
Summer 70-80 F
Fall 55-65 F
Winter 25-30 F
Nearby Cities
Jackson, WY
Trip Planner
Use our FREE RV trip planner to begin customizing the perfect RV trip.
Continue
RV Resorts & Campsites in Grand Teton National Park
There are many places to camp in and around Grand Teton National Park. Because the entire area is popular, especially in the summer, be sure to make reservations ahead of time if you can. Also, many places shut down during the colder months, so make sure the campground of your choice is open if you're traveling during the off-season.
Grand Teton National Park Public Campgrounds
Grand Teton National Park Private Campgrounds
RV Rentals Near Grand Teton National Park
Nearby RV Rentals
Hit the Trails
There are over 200 miles of trails to hike in the park, and you can explore everything from jagged mountain peaks to spectacular waterfalls to clear mountain lakes. Make sure to bring plenty of water, and read these safety tips for hiking in bear country.
Grand Teton National Park Jenny Lake Trails
Hidden Falls
Distance: 4.8 miles round trip with an elevation change of 1200 feet
Terrain: This popular trail winds above Jenny Lake's south shore, with a view of a 200 ft. tall waterfall.
Jenny Lake Loop
Distance: 7.6 miles round trip with an elevation change of 900 feet
Terrain: A rolling trail follows the shore around Jenny Lake.
Inspiration Point
Distance: 8.2 miles round trip with an elevation change of 2400 feet
Terrain: Climb the Horse Trail to Cascade Canyon, then on to Inspiration Point which overlooks Jenny Lake.
Forks of Cascade Canyon
Distance: 14.6 miles round trip with an elevation change of 2700 feet
Terrain: This popular trail leads into Cascade Canyon, with views of Mt. Owen and Teewinot.
Lake Solitude - North Fork
Distance: 20 miles round trip with an elevation change of 3900 feet
Terrain: This strenuous hike leads through Cascade Canyon and on to Lake Solitude, with views of the Grand Teton and Mt. Owen.
Hurricane Pass - South Fork
Distance: 25.8 miles round trip with a 5400 foot elevation change
Terrain: Follow the Cascade Canyon trail and take the South Fork, which leads to Schoolroom Glacier and Hurricane Pass. A very strenuous hike.
Grand Teton National Park Flagg Ranch Trails
Polecat Creek Loop
Distance: 2.5 miles round trip
Terrain: This easy hike wanders along a marsh that provides habitat for waterfowl and other wildlife.
Flagg Canyon
Distance: 4 miles round trip
Terrain: From the northeast side of Polecat Creek Trail, follow this trail out and back for views of the Snake River.
Grand Teton National Park Jackson Lake Lodge Trails
Lunch Tree Hill
Distance: 0.5 miles round trip
Terrain: An easy, short interpretive trail that leads to the top of a hill overlooking Willow Flats at the Teton Range.
Christian Pond Loop
Distance: 3.3 miles round trip
Terrain: This low-impact walk through marsh habitat near the pond eventually climbs a forested ridge for views of the Teton Range. 5 trails
Grand Teton National Park Two Ocean Lake Trails
Two Ocean Lake
Distance: 6.4 miles round trip
Terrain: A moderate hike through forests and meadows.
Emma Matilda Lake
Distance: 10.7 miles round trip with an 1,100 foot elevation gain
Terrain: Circle the lake, then the north trail follows a ridge offering views of the Teton Range.
Grand Teton National Park Laurance S. Rockefeller Preserve
Lake Creek-Woodland Trail Loop
Distance: 3 miles round trip
Terrain: An easy hike along Lake Creek to the shore of Phelps Lake.
Aspen Ridge-Boulder Ridge Loop
Distance: 5.8 miles round trip
Terrain: This moderate hike leads through aspen groves and boulder fields to the shore of Phelps Lake.
Phelps Lake Trail Loop
Distance: 6.3 miles round trip
Terrain: A hike around Phelps Lake with stunning views of the Teton Range.
What to Do at
Grand Teton National Park
After exploring the park on your own, you may want to try some other activities nearby. Enjoy a meal with a view, browse the local artwork, or see how you do as a ranch hand. Here are a few of our recommendations around Grand Teton National Park.
The Mural Room
Type: Fine Dining
Location: Jackson Lake Lodge
Sheffields at Headwaters Lodge
Type: Burgers, comfort food
Location: Headwaters Lodge at Flagg Ranch
Persephone Bakery
Type: French cafe
Location: Jackson
Cafe Genevieve
Type: Home cooked classics
Location: Jackson
Headwaters Gift Shop
Shop a variety of Grand Teton and Yellowstone souvenirs and apparel. Find local handmade gifts and jewelry, including Native American jewelry. You'll also find hiking maps, guide books, and books on local history.
Location: Headwaters Lodge at Flagg Ranch
Lee's Tees
More t-shirts than you can possibly imagine fill this 5,000 square foot clothing store in Jackson's Town Square. Find something for everyone from infants through adults. The store also stocks a wide selection of hats, sweatshirts, sweatpants, and fleece.
Location: Jackson
Mountain Dandy
Here you'll find "classic provisions for the sharp gentleman or home." The store works with all-American makers and has a well-curated collection of found objects, antiques, and modern items for the discerning gentleman.
Location: Jackson
Valley Bookstore
An independent bookstore serving Jackson for 45 years. The store has books on the local history, as well as trail guides and a section on hunting and fishing, but they also have rare books on Yellowstone and Jackson Hole, kids' books, and an excellent selection of fiction novels. They'll ship to your house if you go a little overboard on your book buying.
Location: Jackson
Mursell's Sweet Shop
Mursell's is a chocolate and sweet shop that offers candies from around the world. The delicately decorated decadent treats look almost too good to eat...but you will anyway!
Location: Jackson
Stop for information on the Colter Bay and Grand Teton, but stay for the Native American art exhibits. Visiting Indian artists from around the country demonstrate and sell their artwork on the lower level of the museum each summer, and many of the 1400 artifacts in the collection are on display. Rangers also lead a variety of programs including demonstrations of tipis and talks on Indian arts and culture.
The museum collects, preserves, and explores the history of Jackson Hole and the greater Yellowstone area. Exhibits teach about agriculture, dude ranching, local wildlife, sled dog racing, and much more.
Study animal art through the ages at this museum - there are over 5,000 items ranging from 2500 BC to present-day. If you're visiting with kids, be sure to visit the Children's Discovery Center to draw, see the life-size diorama, try on animal costumes, read in the book nook, or put on a puppet show.
The Children's Museum has a variety of hands-on exhibits for kids including the Jackson Hole Airport where children can pretend to fly a plane, the Jackson Jobs exhibit that highlights jobs in the area, the Mountain Market where kids can pretend to shop, the Wild Wind Machine, the Magnet Wall, the Creativity Studio, a Book Nook, a Tot Spot for younger explorers, and more.
This Jackson structure hosts various nonprofit arts organizations, including the Dancers' Workshop, and offers programs for locals as well as visitors to the area. Find classes and performances in dance, theater, visual arts, film, and more. The performing arts pavilion also has a theater and music center.
Visit a Dude Ranch
Enjoy the spectacular scenery of the Grand Teton area from the back of a horse. Participate in activities such as horseback riding, wildlife viewing, cookouts, square dancing, fishing, and float trips. Triangle X Ranch offers all this, plus pack trips and big game hunting excursions.
Jackson Hole Mountain Resort
The main ski and snowboard resort in Jackson Hole has over 2,500 acres of trails, but the resort isn't just hopping during the winter. Visit in warmer weather and take the tram up for biking, hiking, or paragliding.
Chapel of the Transfiguration
This rustic chapel was built in 1925 to provide a place to gather and worship for dude ranchers and tourists. The chapel still holds communion services every Sunday from Memorial Day through Labor Day, and is open to the public during the week. The building itself might be unassuming, but the view of the Grand Tetons from inside is inspiring.
Mormon Row
Leaders of The Church of Jesus Christ of Latter-day Saints sent people out from the Salt Lake Valley to establish new communities and support their growing population. Homesteaders in this area clustered their farms together, in contrast with most western homesteaders who wanted lots of open space. These settlers formed a community today known as "Mormon Row." The Moulton Barns are the subject of many budding photographers, with the magnificent mountain range rising behind them.
Wyoming Stargazing
As one of the country's least populated states, Wyoming skies are perfect for viewing constellations, planets, and other features of the night sky. Wyoming Stargazingis a non-profit that holds public and private stargazing programs, planetarium sessions, and rents telescopes to people who want to get a closer look at the heavens.
How to Get to
Grand Teton National Park
here are several ways to travel to Grand Teton National Park. You can fly into Jackson Hole airport, and drive to the park from there. The airport offers flights from a few major airlines so you have a good chance of finding one that works for you. Idaho Falls also has an airport, about 90 miles west of the park, and Salt Lake City International Airport is 306 miles south.

If you are driving to the park from the Salt Lake City area, take I-15 north to ID-34 to US-89 N. From Denver, the 8-hr drive heads up I-25 to I-80, then to US-89 N into the park.

You can also travel to the park by renting an RV. Whether you rent an RV in your town and make the drive to Grand Teton National Park, or fly in to a city nearby and rent one, you're sure to find an RV rental to make your trip comfortable and enjoyable.

There are several RV campgrounds in and near Grand Teton. Make sure they're open at the time you want to visit, and make reservations in advance if that is an available option.
Entering Grand Teton National Park
There is a fee to enter the park. If you're going to be visiting both Grand Teton and Yellowstone, you may want to consider purchasing an America the Beautiful pass instead of paying entrance fees to both parks. Also, if you have a fourth grader, be sure to apply for the
Every Kid in a Park Pass, which allows them and everyone in the vehicle with them free entrance into all national parks for the year. You can find out more about the program here.
Private Vehicle : $35
7-day pass for private, non-commercial vehicles (15 passenger capacity or less) and all occupants.
Motorcycle : $30
7-day pass for private, non-commercial motorcycle.
Per Person : $20
7-day pass for one individual with no car (bicyclist, hiker, pedestrian). Youth 15 and under are admitted for free.
While the Grand Teton National Park often lives in the shadow of its more famous neighbor, it is a spectacular park in its own right and well worth a special trip. The awe-inspiring mountains, cool lakes, and bubbling streams and waterfalls make it a lovely vacation. We here at RVshare love helping people get out and enjoy the outdoors with their friends and family. Enjoying the natural beauty of this world creates special memories that bind you together for life, and RVing is a wonderful way to experience that. Whether you visit the park in an RV rental from us or on your own, we want to know about it! Share pictures and tips at memories@rvshare.com and be sure to tag us on social media. Your adventures could be featured on our blog or social media channels!