Cuyahoga Valley National Park
Ohio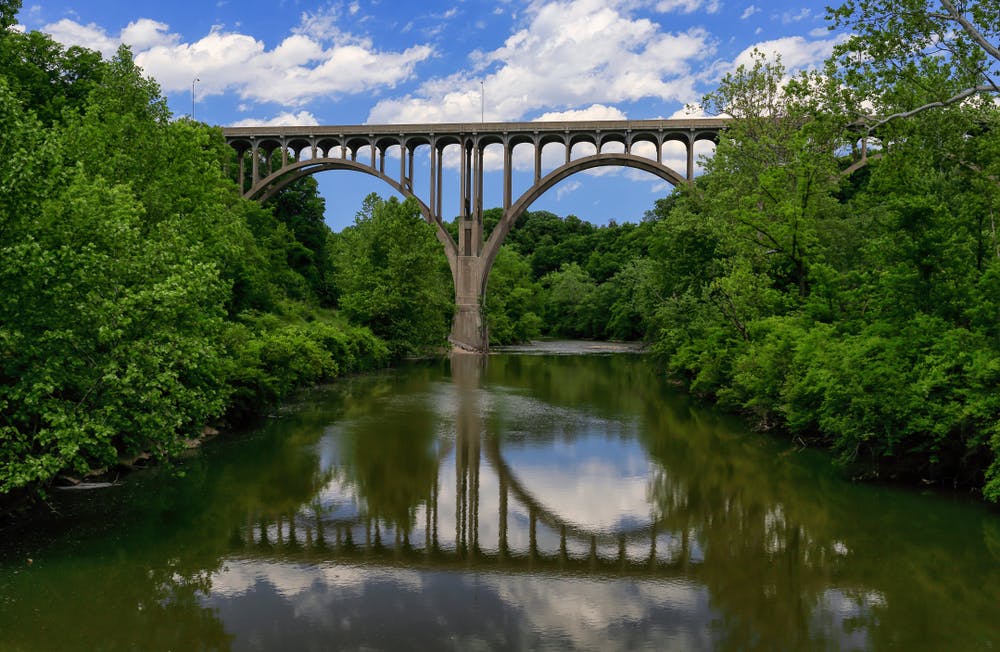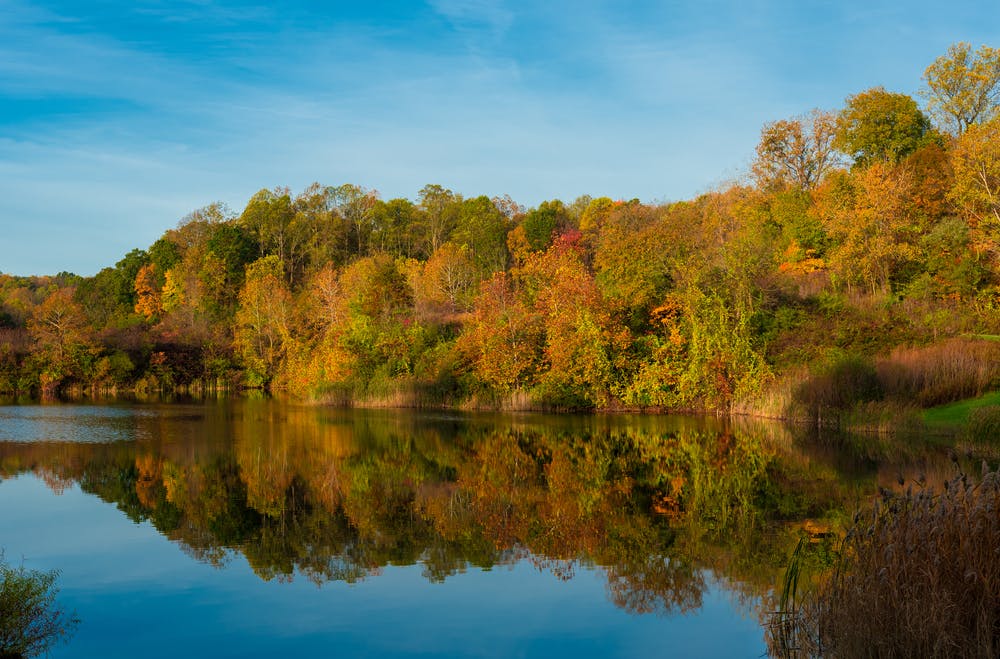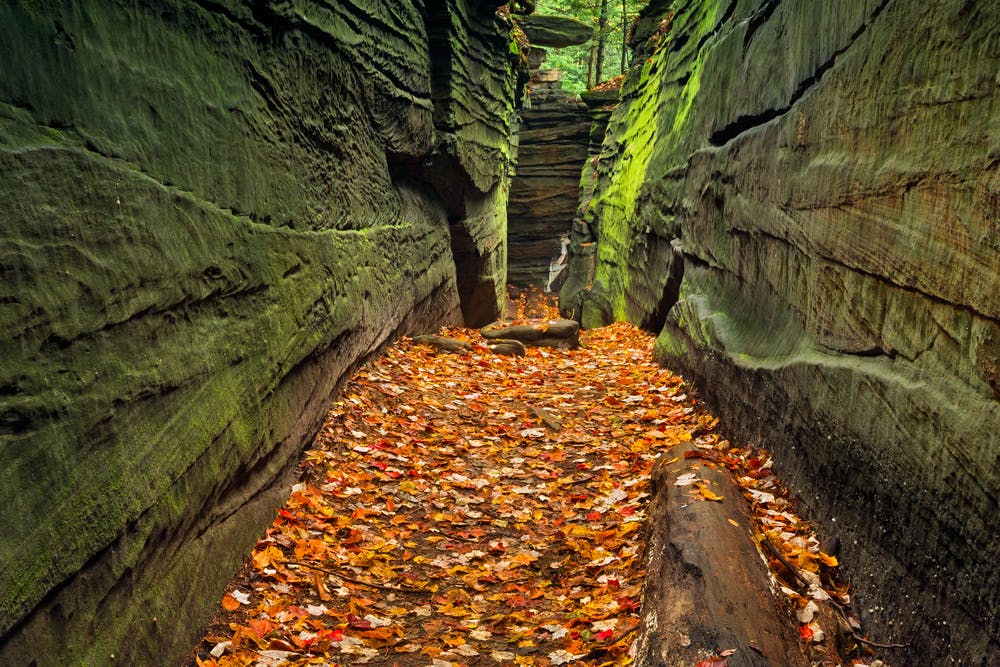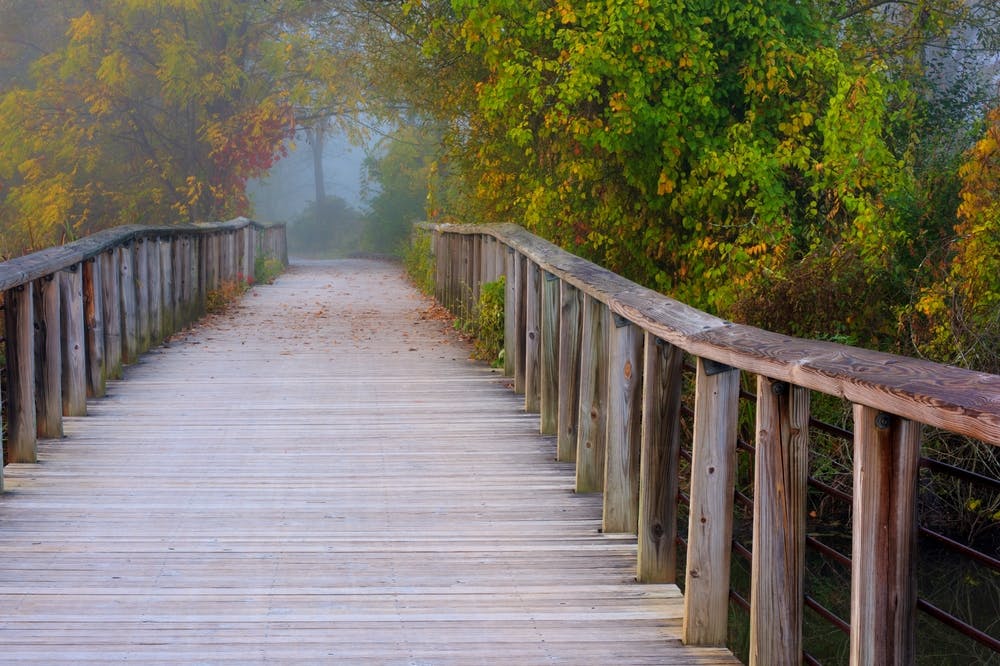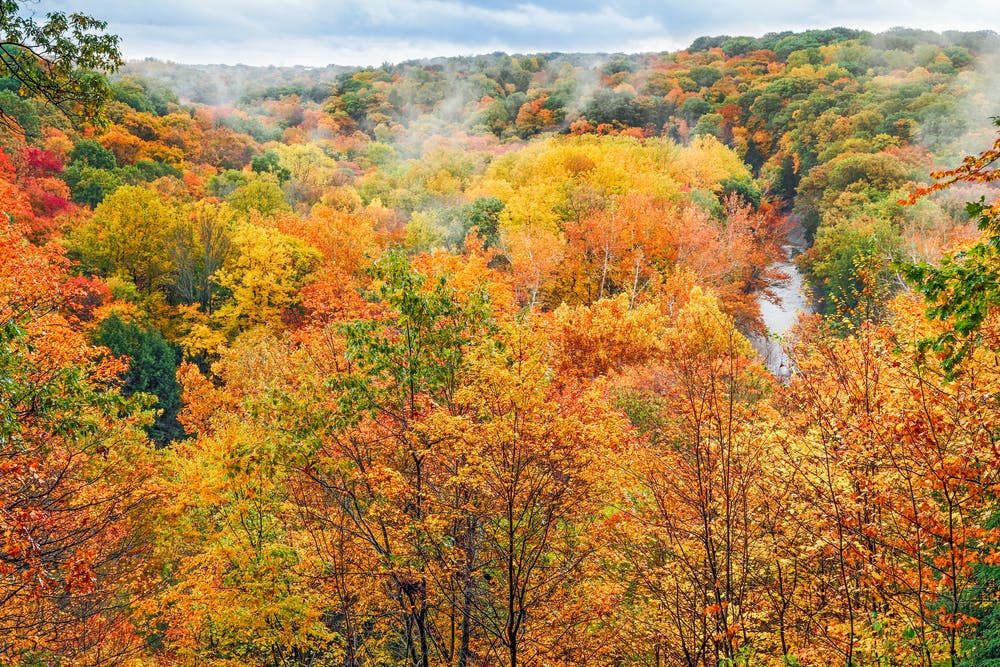 Cuyahoga Valley National Park
is located in Ohio and is the state's only national park. It boasts 100 waterfalls (including Brandywine Falls, the tallest waterfall in Northeast Ohio at 65 feet) and is situated along the Cuyahoga River between Cleveland and Akron. The terrain consists of lush forests, rolling hills, narrow ravines, wetlands, and rivers. According to the National Park Service, Cuyahoga Valley receives more than 2.2 million recreational visits each year, making it one of the most-visited national parks in the United States. With over 125 miles of hiking trails, a 100-miles long river, and a scenic railroad within the park, who could blame them?
This region has as much deep and rich human history as it has stunning natural beauty. In fact, the word Cuyahoga itself is derived from a Native American tongue — the Iriquois language, specifically. Evidence of more than 500 generations of Native Americans have lived in this area long before it became a national park; learn about their history here.
The weather in Cuyahoga Valley National Park offers four distinct seasons, with temperatures varying greatly from month-to-month. Visitors can expect average daytime temperatures of 46 – 69 F in Spring, 77 – 95 in Summer, 49 – 72 in Fall, and 33 – 37 in Winter (with night time temperatures reaching below zero at times). The park averages 61 inches of snow annually.
Alongside the park lie the Northeast Ohio cities of Akron and Cleveland, both which are filled with countless things to see and do. You'll also find plenty of smaller, picturesque towns and villages sprinkled around and within the national park, including Cuyahoga Falls, Boston Heights, Brecksville, and Peninsula (just to name a few).
If you're looking for in-park activities, Cuyahoga Valley has scheduled events running regularly. Find the full schedule here. While hiking is one of the most popular activities within the park, you'll also find plenty of other fun things to try, including bird watching, canoeing, kayaking, fishing, picnicking, star viewing, golfing, horse riding, biking, and more!
Weather
Spring 46-59 F
Summer 77-95 F
Fall 49-72 F
Winter 33-37 F
Nearby Cities
Akron, OH
Cleveland, OH
Trip Planner
Use our FREE RV trip planner to begin customizing the perfect RV trip.
Continue
RV Resorts & Campsites in Cuyahoga Valley National Park
When you visit Cuyahoga Valley National Park, you have the option to stay at a private or public campground. It's important to note that the park's only campground (Stanford) fills up quickly, especially during Spring and Summer. Also, many of the campgrounds are not open year-round, running from around May 1st through October 31st. We recommend making your reservation in advance.
For those wishing to experience the natural beauty of the park in an RV, please note that RVs can be parked for day time use only, but not overnight anywhere in the park. Additionally, the only campground within the park is for tent-only camping. Thankfully, there are plenty of reputable RV-friendly campgrounds just outside of Cuyahoga National Park.
Cuyahoga Valley National Park Public Campgrounds
Cuyahoga Valley National Park Private Campgrounds
RV Rentals Near Cuyahoga Valley National Park
Nearby RV Rentals
Hit the Trails
With over 125 miles of hiking trails, there's sure to be an adventure suitable for any type of hiker. Hiking is a great way to see the beauty that the park has to offer on-foot. Just don't forget to pack plenty of water, sunblock, and appropriate footwear!
Below we've chosen a few of our favorites. For all of the trails that Cuyahoga Valley has to offer, click here.
Cuyahoga Valley National Park Trails
Ledges
Distance: 2.2 miles
Terrain: rocky, some steps
Tree Farm
Distance: 2.75 miles
Terrain: flat, dirt
Brandywine Gorge
Distance: 1.4 miles
Terrain: hilly, rocky
Buckeye (Blue Hen Falls)
Distance: 0.5 miles
Terrain: hilly, rocky, firm flat
Old Carriage
Distance: 5.25 miles
Terrain: hilly, rocky
What to Do at
Cuyahoga Valley National Park
When you've exhausted yourself hiking Cuyahoga Valley's lush forests, rolling hills, and breathtaking waterfalls, then you might be ready for a different adventure altogether. Whether that's a mouth-watering meal, some retail therapy, or a trip to a museum, here are some of our top recommendations for activities near the national park.
Restaurants
When it comes to dining experiences, Ohio certainly has its gems. While some are well-known, others are slightly off the beaten track. Regardless, you're sure to love our suggestions below.
Type: Diner in a historic train
Location: Belville
Type: Italian fine-dining
Location: Broadview Heights
Type: Old-school drive-in eatery
Location: Seven Hills
Type: Steakhouse
Location: Avon
Type: Seafood fine dining
Location: Lakewood
Shopping
Need to gather some supplies, or simply want to pick up a few souvenirs from your travels? The following recommended shops are sure to help you indulge in some retail therapy, plus they're just a stone's throw from the national park!
The Arcade, Cleveland
The city's most popular mall is housed within a Victorian-era structure of two nine-story buildings, joined by a five-story arcade with a glass skylight spanning over 300 feet. If that's not shopping in style, then we don't know what is!
Location: Cleveland
b.a Sweetie Candy Company
This huge sweet shop has been called candy heaven by its visitors and for good reasons too! It features over 40,000 square feet of candy, including old-time favorites and new crazes.
Location: Cleveland
STAR POP Vintage + Modern
For vintage goods, such as toys, video games, clothing, and collectible items, look no further than this merchant. Both children and adults alike will be amazed by these rare finds.
Location: Cleveland
Rubber City Comics
Feel like perusing Akron's best comic book shop? You'll find hundreds, if not thousands of quality comics, graphic novels, supplies, action figures, apparel, and other collectibles here.
Location: Akron
Amy's Hallmark Shop
If you need a gift for any occasion whilst in Ohio, then this shop is sure to delight. It specializes in greeting cards, gift wrap, ornaments, and more.
Location: Parma (inside Pleasant Valley Shopping Center)
Museums
Run into a rainy day during your stay at Cuyahoga Valley National Park? Rather than hiding in your tent or RV, you could visit one of these local museums instead!
What better place to start than a museum dedicated to the national park itself? The Cuyahoga Valley Historical Museum features permanent and special exhibits and is housed on the second floor of the historic Boston Township Hall.
Location: Peninsula
John Farnam served as a special agent for George Washington in the Revolutionary War. These days, people can visit his historic manner and attend a number of regular, widely-celebrated events, such as Halloween ghost walks, meditation ceremonies, camping experiences, and music concerts.
Location: Richfield
MAPS Air Museum is an internationally known museum of aviation and serves as a center of aviation history for Northeast Ohio. Here, you can witness its impressive collection of artifacts, interactive exhibits and historical archives.
Location: Green
The Akron Art Museum features 20,000 square feet of gallery space dedicated to the display of its collection of art, as well as visiting shows from national and international collections
Location: Akron
An educational experience for the children that's also fun, Akron Children's Museum seems to have it all. Here, kids can enjoy interactive exhibits on science, technology, health, and culture, as well as fun classes and other hands-on activities.
Location: Akron
Sightseeing
While you'll find endless entertainment and activities within the national park, there's also plenty to do in Cuyahoga Valley's surrounds. Our top picks are listed below.
Furnace Run Metro Park
This stunning park also offers plenty of year-round activities, including hiking, swimming, wildlife viewing, cross-country skiing, fishing, ice skating, and sledding. It's perfect for a lunchtime picnic or to witness the 40,000 daffodils that call the metro park home.
Bath Nature Preserve
Stop by this 404-acre park to explore its nature and horse trails, bike paths, and hiking adventures. Other activities include fishing and cross-country skiing, so there's something to suit every type of outdoor traveler.
Akron Zoo
While there are plenty of wildlife viewing opportunities within the national park, we recommend a visit to the Akron Zoo to set your sights on species not native to our soil - such as African lions, alpacas, lemurs, tigers, leopards, cheetahs, flamingos, and more.
Hinckley Reservation
This scenic park features numerous hiking trails, as well as wood-carved sculptures and a 90-acre lake for fishing, swimming, and boating. It is also home to Whipp's Ledges, famous exposed sandstone ledges with elevations of up to 350 feet.
Edgewater Beach
Whilst visiting Ohio, why not take a trip to the seaside? (Weather permitting, of course!) Edgewater Beach features 1000 feet of swimming access, plus you can experience panoramic views of downtown Cleveland from the shore.
How to Get to
Cuyahoga Valley National Park
You have plenty of options when traveling to Cuyahoga Valley National Park, including by car, plane, or RV.
By Car
If traveling by car, you can gain access to the park from either I-77, I-271, I-80 (Ohio Turnpike), or State Route 8. Follow these roads until you get closer to the national park, from which there will be signs to guide you.
By plane
Both the Cleveland Hopkins International Airport and Akron-Canton Regional Airport are also just a short drive away from Cuyahoga Valley. Car rentals are available from either of these.
By RV
Additionally, if you want to experience the national park in style and comfort, then traveling in an RV is the way to go. If you don't own an RV, then renting one is the perfect option, as it allows you to travel at your own pace, minimize your accommodation costs, and have a front-row seat to the scenery as it unfolds in front of you. RV rentals are available across the country, so you can either start at your location and drive the whole way, or fly in and pick up an RV closer to the park. It's that easy!
Just keep in mind that Cuyahoga Valley does have some restrictions regarding RV parking and camping. However, there are plenty of popular, RV-friendly campgrounds located near the national park.
View RV Rentals
Entering Cuyahoga Valley National Park
Entry into the park is free, but scheduled events, concerts and other activities may be subject to a fee. Instead, the park encourages all visitors to support the park by donating to their associated group, the Conservancy for Cuyahoga Valley National Park. Read more about this here.
We are so excited about your trip to Cuyahoga Valley National Park. After all, it is one of the most popular national parks within the US, and we can see why! We're passionate about helping people get out among nature with their loved ones and what better way to do that than with a scenic RV camping trip? Whether you visit Cuyahoga Valley National Park in an RV rental from us, or simply set up your own tent within the park, we'd love to hear all about your trip! Send us photos at memories@rvshare.com, tag us on social media, share your favorite memories, and anything else you want others to know about your experience for a chance to be featured on our blog or social media channels.