Channel Islands National Park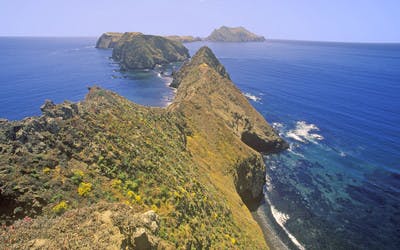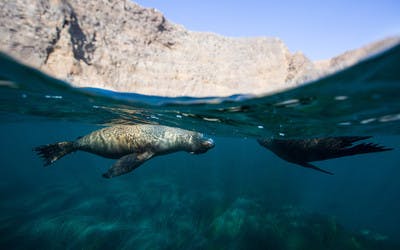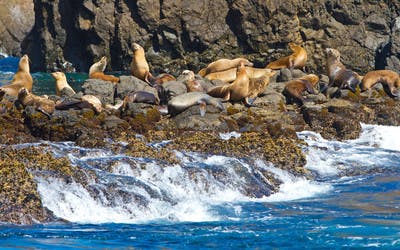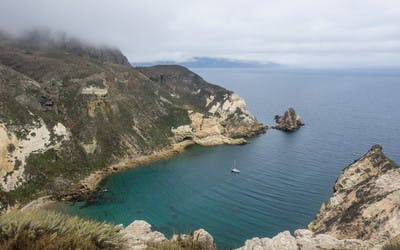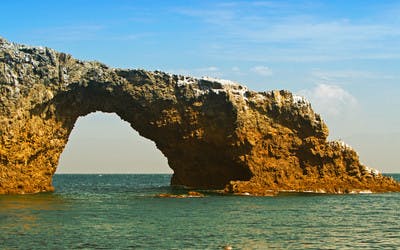 >

Channel Islands National Park
Just off the coast of one of the most densely-populated parts of America, Channel Islands National Park holds a treasure trove of undeveloped sea-bound wonderlands, filled with unique flora and fauna whose isolation has led them to evolve differently than their continental counterparts. The national park is comprised of five of the area's eight channel islands, totaling just under 250,000 acres, and is located just a few miles off the coast of California's Santa Barbara and Ventura counties. Some of the islands show signs of human habitation as long as 37,000 years ago, and archeological finds such as primitive fish hooks and fire pits have given scientists clues as to the prehistoric way of life in this singular landscape. Click here to learn about the Indigenous history of the islands, long before they became a National Park.
Thanks to their location off the coast of southern California, the channel islands enjoy relatively mild temperatures and a Mediterranean-style climate year round. Daytime highs tend to hover between 50-60 F. However, seasonal changes do affect ocean conditions, and high winds or rough seas can make visiting the islands treacherous. Fog can also descend on the landscape, especially during late spring, decreasing visibility.
The Channel Islands National Park visitors centers are on the mainland, in Santa Barbara and Ventura. These towns, and the greater Los Angeles area, serve as the park's gateway cities, and offer a huge range of restaurants, shopping opportunities, and cultural events and exhibits.
This one-of-a-kind stretch of islands offers a wealth of adventures for the outdoorsy, from hiking and backcountry camping to kayaking, canoeing, snorkeling and diving in or on the interstitial waters. The park also boasts unparalleled wildlife sighting opportunities, thanks to its isolation from the mainland; many of the species that call the channel islands home are impossible to find elsewhere. Whale watching, birding, and tidepooling are particularly popular, and are often aided by ranger-led guided hikes. Click here to see the park's official events calendar.
Weather
Spring 50-60 F
Summer 50-60 F
Fall 50-60 F
Winter 50-60 F
Nearby Cities
Santa Barbara, CA
Trip Planner
Use our FREE RV trip planner to begin customizing the perfect RV trip.
Continue
RV Resorts & Campsites in Channel Islands National Park
Because the park is comprised of off-shore islands, there's no way to camp on-site if you're traveling by RV. However, there are multiple camping options nearby on the mainland, both in free or low-cost public areas and in costlier (but posher) private RV resort campgrounds.
Public RV Campgrounds Near Channel Islands National Park
Private RV Resorts Near Channel Islands National Park
RV Rentals Near Channel Islands National Park
Nearby RV Rentals
Hit the Trails
The national park's five channel islands are criss-crossed with trails just waiting for you to meander, explore, and discover the unique plants and animals who call this place home. Most of the islands are accessible and open to hikers, but San Miguel island requires a permit thanks to its particularly delicate ecosystem.
It's always important to carry ample water, food, and sun protection when hiking, and adventures in the Channel Islands are no different. Additionally, hikers should be aware of the landscape's unique risks, including high cliffs, poison oak, "jumping" cholla cactus, and scorpions. The deer mice here have also been shown to carry hantavirus, which is potentially fatal. Click here for more details and a comprehensive list of hiking opportunities in the Channel Islands.
Anacapa Island Trails
Inspiration Point
Distance: 1.5 miles
Terrain: An easy, flat trail with sweeping views. Not to be missed!
Lighthouse
Distance: 0.5 miles
Terrain: An easy stroll that lets you get up close and personal with Anacapa Island's lighthouse,
Santa Barbara Island Trails
Elephant Seal Cove
Distance: 2.5 miles
Terrain: This is a strenuous trail, but if you're able, it's worth it: You'll see elephant seals in their natural habitat from a beautiful rocky overlook.
Sea Lion Rookery
Distance: 2 miles
Terrain: A more moderate option, this trail's overlook provides seal viewing.
Santa Cruz Island
Smugglers Cove
Distance: 7 miles
Terrain: Moderate hike featuring about 1,400 feet of elevation gain and beautiful ocean views. Some sections are paved; good birding and wildflower spotting opportunities.
Santa Rosa Island
Black Mountain
Distance: 8 miles
Terrain: Long and steep, but rewarding; end on a summit with expansive views of San Miguel, Santa Cruz, and the mainland.
Water Canyon Beach
Distance: 3 miles
Terrain: An easy stroll along miles of white sandy shoreline.
What to Do at
Channel Islands National Park
As mesmerizing as they are, you can only spend so long on the islands. But when you're ready for an urban adventure, your opportunities are literally endless. No matter what you want to eat, drink, or do, you can find it in Southern California -- but here are just a few suggestions to get you started.
Restaurants
Whether you're looking for Thai-level spice or classic Mexican favorites, you can find just about anything your heart -- er, stomach? -- desires when mealtime hits in Santa Barbara. Here are a few local favorites sure to please any appetite.
Fresh, healthy, and Instagram-level gorgeous, Backyard Bowls is just about as Southern California as it gets. Serving up customizable fruit, grain, and porridge bowls as well as a selection of antioxidant-filled smoothies.
Type: Health
Location: Multiple
Even if you're not big on fast food, you are literally not allowed to leave the west coast without having at least one meal at In-N-Out. The whole "animal style" thing is okay, but the real secret menu item to get is an order of well-done fries
Type: Fast Food
Location: Multiple
When you're in Santa Barbara, Baja is just a few hours down the road -- and it shows when you eat at this small local chain of Mexican restaurants. Whether you just need a quick pit stop for a plate of nachos or you're down for the whole enchilada, you won't be disappointed.
Type: Mexican
Location: Multiple
Two outdoor patios, a full bar, and the seafood is the freshest you can imagine -- with a great view of where it came from, to boot.
Type: Seafood
Location: Oxnard
If you're visiting the Pacific coast for the first time, you do not want to miss the opportunity to have actual authentic Asian food -- and this beloved Thai joint is a great place to start. Large portions for reasonable prices, and yes, it's as spicy as you're hoping.
Type: Asian
Location: Carpinteria
Shopping
Need a new backpack -- or a T-shirt to bring back to the unfortunate folks you left at home for the trip? These local vendors have you covered, whether you're just going for a quick trip or a full-on shopping spree.
There's a lot to learn about this unique stretch of islands. So if you want to brush up before your hike -- or just get your national parks passport stamped -- head to the Robert J. Lagomarsino Visitor Center, located on the mainland in Ventura.
Location: Ventura
This hip strip of stores and eateries features an eclectic blend of big-name brands and mom-and-pop boutiques. Whether you need a new outfit or help repairing your cell phone, if you're looking for resource-filled shopping mall, this is the one you want.
Location: Oxnard
Your one-stop shop for outdoor gear, apparel, guidance, and more.
Location: Ventura
Need some groceries? This California-born supermarket chain combines the two things that are always on our shopping list: freshness and affordability.
Location: Multiple
Museums
It may be southern California, but rainy days do happen -- and besides, there's so much to learn at these museums and cultural exhibits, they're worth a few hours even if the sun is shining.
You don't have to be an art history major to enjoy this, one of the most famous collections of 20th and 21st century art in America.
Location: Oxnard
Want to learn more about the human element of these seemingly wild islands? Explore model ships, seascapes, and all manner of artifacts that shed some light on the people who've been brave enough to call this place home.
Location: Oxnard
From 74-foot blue whale skeletons to a planetarium with out-of-this-world presentations, the Santa Barbara Museum of Natural History is a great place to stoke your sense of wonder. It also has a sea center, where you can learn more about -- and even touch! -- some of the area's marine residents.
Location: Santa Barbara
Sightseeing
You could spend an age just exploring Channel Islands… but there's a whole lot more to see in this sunny stretch of the world.
It's pretty crazy to think that you can find yourself in just about as opposite an ecosystem as possible, all within the same state's borders. Once you've had enough of tidepools and kayaks, head east to this surreal desert landscape, filled with the twisted trees of its namesake.
One of the oldest Catholic parishes in the country, the San Buenaventura Mission is housed in a gorgeous chapel in Ventura -- which is open to visitors from sunrise to sunset. Or, stick around to catch a mass on Sunday!
Covering a sprawling 30 acres, Santa Barbara's zoo is home to over 500 animals, representing 146 species of mammals, reptiles, birds, and insects.
How to Get to
Channel Islands National Park
Since Channel Islands National Park is located off the coast of one of the most densely-populated metropoles in the country, it's not hard to get into the vicinity -- though getting to the islands themselves is a different matter. Ventura and Santa Barbara are accessible by a wide variety of California highways and interstates, and visitors can choose from a number of major nearby airfields, including Los Angeles International.
Once you arrive in southern California, you can go to the islands in one of the following ways:
- park concessionaire boats
- park concessionaire planes
- private boat
Entering Channel Islands National Park
Public boat transportation to each of the islands is available year-round, though the specifics of each boat's itinerary differ. Click here to learn more about island transportation -- and keep in mind that there is NO ground transportation once you arrive on the island. All areas must be accessed on foot.
Unlike many other American national parks, there is no fee to enter Channel Islands! That means you can save your cash for all those delicious restaurants and tempting shopping centers in the nearby cities.
Although you can't take a motorhome or travel trailer to the islands themselves, traveling by RV is the best way to combine comfort and flexibility -- and it puts your travel schedule and itinerary firmly in your hands. Rather than wait through a frustrating TSA line at the airport or worry about packing and unpacking in a series of expensive hotel rooms, why not peruse the RV rental listings in your area? When you rent through the peer-to-peer market, you save hundreds of dollars off traditional rental prices.
We're excited to learn more about your trip to this special national park, whose serene isolation flies in the face of its crowded mainland neighbors. For a chance to be featured on our blog or social media channels, tag us in your travel photos and stories, or send them to us directly at memories@rvshare.com!